Editorial Board
French Voters Want Action on the Economy
Government leaders should counter the far right with labor-market reforms.
by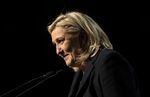 France's political elites may be tempted to simply breathe a sigh of relief and get back to business as usual, now that the National Front has failed in its bid to win control of any of France's regions. That would be a mistake.
Once a pariah in French politics, the NF did surprisingly well in the first round of voting a week ago, taking the lead in six of 13 regions amid low voter turnout. Voters turned out in much higher numbers on Sunday for round two. The government's defensive strategy -- withdrawing candidates in key regions and calling on voters to unite to defeat the NF -- seems to have worked. 
But the NF has grown more popular. That owes something to growing concerns over refugees and security in the wake of the Paris attacks. But it mainly reflects widespread dissatisfaction with the government's failure to bring the economy out of its doldrums. And to this, France's rulers -- as well as its main Republican opposition -- must pay attention. 
Unemployment in France stands at more than 10 percent (compared with 6.3 percent in Germany), and nearly a quarter of French youth are unemployed. This year, the French economy is expected to grow only 1.1 percent.
The solution to this stagnation is a matter of common sense and great urgency, yet until now, politicians have only tinkered at the edges of labor-market policies. What's needed is wholesale reform of the country's Napoleon-era employment code, which imposes excessive burdens on employers and discourages job creation. Non-wage labor costs are too high; employers are responsible for a burdensome range of benefits. And firing workers is prohibitively expensive, making it hard for employers to adapt to changing market conditions. A series of French governments have indicated a willingness to make changes -- indeed, the current Socialist government has made a more earnest effort than the center-right one did under Nicolas Sarkozy -- but their actions have been modest.   
France's leaders must now make a choice. The path of least resistance would be to ignore the lessons of this election, or even to take a page from Le Pen's populist playbook. The better response would be to enact the kind of changes that can create economic opportunity for French citizens.
--Editors: Therese Raphael, Mary Duenwald.
To contact the senior editor responsible for Bloomberg View's editorials: David Shipley at davidshipley@bloomberg.net .
Before it's here, it's on the Bloomberg Terminal.
LEARN MORE