view
Another Genius Idea for How to Fix Yahoo
Saving the struggling tech company is harder than it looks.
by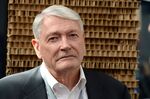 The activist hedge-fund manager's playbook for how to improve shareholder returns at a company is usually pretty simple. The recommendations almost always fall into one (or more) of these three categories:
Split up.
Merge.
Give cash to shareholders.
These activist strategies are so simple that it's tempting for those of us in less-remunerative lines of work to dismiss the whole enterprise as dumb luck. I have an enduring fixation with the relative roles of luck and skill in the success of Carl Icahn, who often seems to have only the most cursory knowledge of and interest in the companies he targets. But clearly the man understands something valuable about timing, as well as public relations. And in general, the activists have been more successful when they stick to the simple playbook than when they get involved in, say, choosing retailing strategies.
At Yahoo! Inc., the activists tried to stick to the playbook, pushing the company to separate its operating business from its 15 percent stake in Chinese Internet giant Alibaba. But then they ran into trouble with the Internal Revenue Service, which won't give assurances that a spinoff of the Alibaba shares -- now valued at almost $30 billion -- would be tax free.  Now Yahoo will try to spin off its less-valuable core business instead, but that process will be long and fraught. So activist investors have been coming out of the woodwork to offer criticism and advice.
The latest addition to this oeuvre is a 99-page "Better Plan for Yahoo Shareholders" released by a small activist fund called SpringOwl Asset Management. 1 SpringOwl's recommendation that Yahoo fire 9,000 of its 10,700 employees, among them Chief Executive Officer Marissa Mayer, has gotten the most attention today. But my favorite part of the report is this:

This is a reference to billionaire John Malone's media empire, which consists of multiple companies, most of which have "Liberty" in their names. The structure of this empire is famously complex, and famously suited to minimizing taxes. As my Bloomberg View colleague Matt Levine wrote last year, Malone is "one of the deeply original artists of our time, who happens to work in the medium of not paying taxes."
My initial reaction to SpringOwl's Liberty proposal was to laugh. Yes, Yahoo should bring in "someone like a Liberty" to help with tax planning. Then, the company should hire someone like a Mark Zuckerberg as CEO, get someone like a Jonah Peretti (of Buzzfeed) to run its media businesses, bring in a bunch of engineers like Google's and get some profits like Apple's. Problems solved!
Struggling companies generally can't do things like that. That's one reason they're struggling. Perhaps there is a scenario in which John Malone and friends would handle Yahoo's tax planning, but I'm pretty sure it would involve taking control of the company and harvesting most of the tax gains for themselves.
Still, this could be one of those naive-sounding suggestions from an activist investor that turns out not to be so dumb after all. Current Yahoo CEO Mayer is an engineer with lots of experience in product management and none, until recently, in tax minimization. Taxes are the biggest factor affecting Yahoo's value right now. Maybe the company's board should consider putting a tax geek in charge, even if they can't get John Malone.
To contact the author of this story:
Justin Fox at justinfox@bloomberg.net
To contact the editor responsible for this story:
James Greiff at jgreiff@bloomberg.net
Before it's here, it's on the Bloomberg Terminal.
LEARN MORE