What the Paris Climate Deal Must Get Right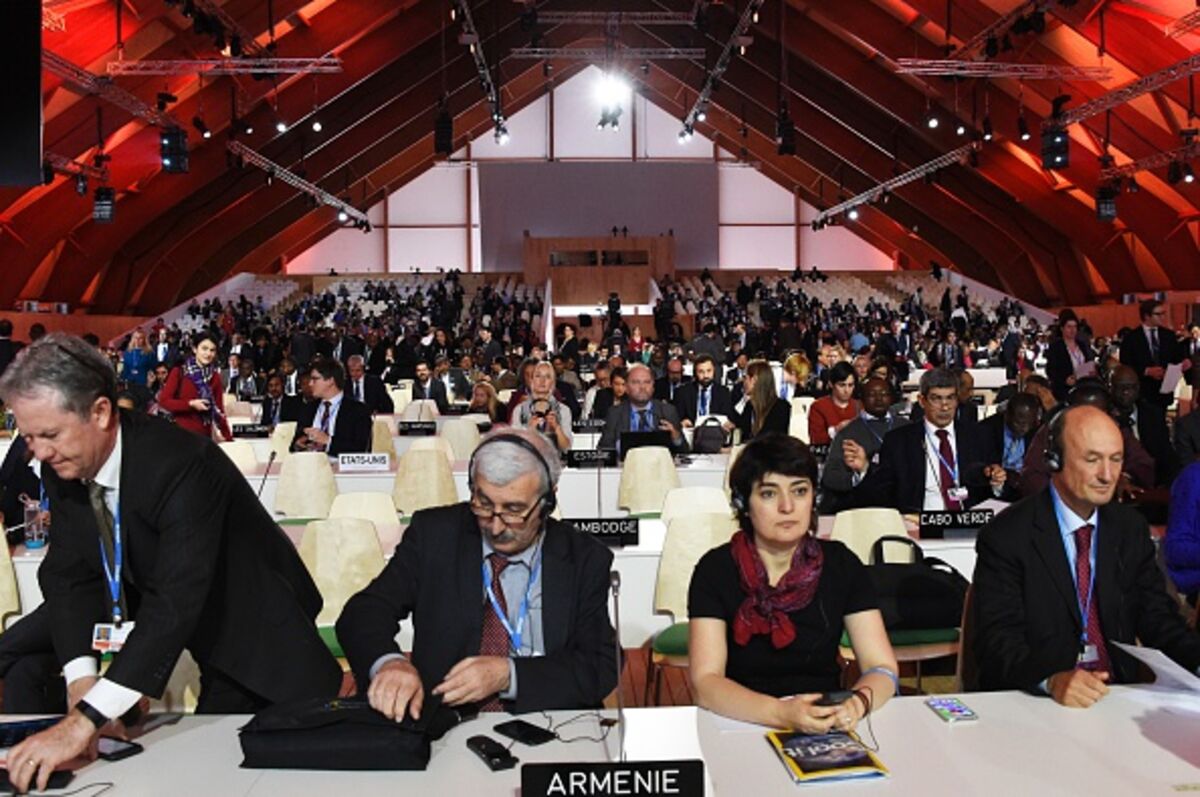 Photographer: Dominique Faget/AFP/Getty Images
Whatever agreement to lower greenhouse-gas emissions emerges from the Paris climate talks, it probably won't be enough on its own to stop the Earth's atmosphere from warming to dangerous levels. If the deal gets certain things right, however, it can at least put that goal within reach.
By Thursday night, negotiators had reached agreement on one important detail: committing to meet again in 2020 to submit new targets for 2025, and to revisit their plans at five-year intervals after that. That schedule is much faster than India and other developing countries had wanted. Of course, there's no guarantee that future meetings will bring significantly more aggressive emissions targets. But the easiest way for countries to avoid increasing the targets is to not even talk about them.
That leaves one essential provision to be worked out: a transparent mechanism for measuring and verifying each country's emissions. Unless there is a standard by which countries demonstrate that they are reducing greenhouse gases, their pledges will be mostly meaningless. And unless all the countries know which ones are succeeding and which ones are falling short, peer pressure -- the motivating principle at the core of climate negotiations -- can't work.
Countries that lack the resources to accurately measure and verify their emissions should be given help to do so from richer nations. No country should consider stricter monitoring requirements an intrusion on sovereignty; transparency is a price the entire world will have to pay for progress.
Another point of contention in Paris that's less important to the final outcome is the Green Climate Fund -- that is, the $100 billion a year that richer countries have pledged to provide poorer countries to finance their efforts to reduce emissions and adapt to climate change. Negotiators should not let the agreement get bogged down over this. India and other developing countries argue that money should come entirely from governments, while rich countries say private investments should count toward the total.
That debate misses the broader point: Private money is already funding a great deal of clean-energy technology in the developing world. In fact, more than half of all clean-energy investment now goes toward projects in emerging markets, according to Bloomberg New Energy Finance; in 2014, the total reached $126 billion. Almost two-thirds of that came from other developing nations.
The beneficiary countries should focus first and foremost on making the most of that money, by providing the legal and regulatory framework investors need. Getting more public money into the Green Climate Fund would help, but if governments don't kick in the entire amount, that shouldn't be a deal-breaker.
That's not to say developing countries' concerns aren't legitimate. Industrialized nations have been largely responsible for the greenhouse gases already emitted. Even if fairness weren't an issue, let's face it: Richer countries are going to have to help poorer ones adapt. But all can benefit from an agreement that leads to the greatest possible amount of emissions cutting -- in this round of talks and beyond.
To contact the senior editor responsible for Bloomberg View's editorials: David Shipley at davidshipley@bloomberg.net.