Sports
Sorry, Sports Fans. Trump's Muslim Ban Would Be Trouble.
Have a Muslim on your team? Don't cross any borders.
by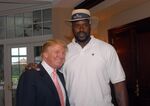 Donald Trump's call to ban Muslims from entering the U.S. has drawn criticism from across the political and cultural spectrum. His dismissiveness of  President Barack Obama's contention that "Muslim-Americans are our friends and our neighbors, our co-workers, our sports heroes" drew strong rebuttals from two of those very idols:  Muhammad Ali and Kareem Abdul-Jabbar. Trump even apparently failed to think of a single Muslim-American sports figure, despite being photographed numerous times with the likes of Ali, Abdul-Jabbar and Shaquille O'Neal.