Ukraine Crisis
Invaders Can't Expect Debt Repayment
Negotiating over a $3 billion bond, Russia and Ukraine are fighting about Crimea without mentioning Crimea.
by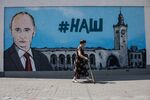 The recent International Monetary Fund decision to change its rules so it can lend to countries in arrears on debts to other countries sets the stage for one of the most interesting legal battles of 2016, one between Russia and Ukraine but with a British judge as arbiter. 
The rule change, made on Tuesday, appears to have been timed to allow Ukraine to default on a $3 billion bond it issued directly to Russia in December, 2013. It comes due on Dec. 20, and Russia has refused to restructure it on the same terms as Ukraine's private creditors did last summer. The IMF used to withhold funding from countries that were in arrears to other sovereigns, forcing them to reach restructuring deals.
That's no longer a requirement. 
Russia considers the move politically motivated. "For the first time in its history, it has gone and made a decision aimed at supporting the economy of a debtor nation, disregarding the circumstances of the case and existing legal agreements, exclusively for political reasons," Prime Minister Dmitri Medvedev said of the IMF in a Wednesday interview with Russian TV. 
Medvedev is probably right about that, but both Russia and the IMF can't have an honest discussion about the political reasons.
The elephant in the room is that Ukraine is the only nation in modern history to owe a debt to a country that has annexed part of its territory, the Crimean peninsula. Medvedev and all other Russian officials pretend the annexation never took place. Neither the prime minister's interview nor Finance Minister Anton Siluanov's article in Thursday's Financial Times mentions Crimea in the context of the bond dispute. Both Russian officials pile on legal arguments, discuss the IMF's treachery, speak of the creation of dangerous precedents -- but they never admit that the dispute between Russia and Ukraine makes this about far more than a $3 billion debt.
The IMF cannot mention Crimea and Russia's support for armed separatists in eastern Ukraine, either. On the surface, these circumstances have nothing to do with lending into arrears. Fund officials even suggest that the rule change has nothing to do with Ukraine. It was long contemplated to reduce China's leverage in cases of poor nations that depend on Chinese loans; these debts had the potential to cut those countries off from IMF aid. Yet the timing of the change clearly suggests that the IMF considers Ukraine's situation special because of Russia's depredations against it, and that though it recognizes the Russian bond as sovereign debt -- something else it has never admitted officially -- it doesn't care if Ukraine pays it.
In this war of pretenses, the IMF has a vastly stronger hand. Western countries have sufficient  votes in the fund to change the rules as they please. If they want to keep lending to Ukraine regardless of whether it pays Russia, they will do so. Indeed, they can effectively write off Ukraine's debt to Russia and make the IMF's $17.5 billion bailout package more effective by saving the $3 billion. Russia can't do anything about it except go to court in the U.K., as the terms of the bond specify.
That's what Russia is preparing to do. In response, Ukrainian Prime Minister Arseniy Yatsenyuk waxes belligerent: "If Russia sues Ukraine, we are ready to meet it in court. We are fully armed."
Yatsenyuk and other Ukrainian officials have long maintained it would be an injustice to fully pay back "the aggressor." In the court, however, the Ukrainians will have to join a game of pretense that Russia and the IMF are already playing. To frame the non-repayment as compensation for Crimea or war damages might weaken Kiev's claim on the lost territory. So instead of making the obvious argument that Russia owes Ukraine for what it's done, not the other way around, the Ukrainian side will talk about its deal with the creditors which expressly forbids it to pay anyone else on better terms than a 20 percent write-off and a four-year suspension of principal payments.
The judge will study the (fairly standard) bond memorandum and weigh the legal arguments, but there's no way he or she will be able to ignore the bigger picture. Judges too read the news and form opinions about it. It's hard to ignore the common sense argument that a sheep can't owe anything to the wolf that has already bitten off one of its legs. It is, however, an argument that can't be included in a verdict. Faced with the reality of never seeing all or part of its money back -- "I have a feeling they won't pay us back because they're crooks," Medvedev said on Wednesday -- Russia is trying at least to get a public relations benefit out of the situation. Last month, President Vladimir Putin coyly offered to restructure the debt, accepting repayment in three annual instalments if the IMF or Ukraine's Western allies, such as the U.S. or the European Union, guarantee the debt. No such guarantees were forthcoming, however, and now Moscow insists that this means a lack of trust in the West in Ukraine's economic recovery. 
"And what did they tell us? They won't help, they won't guarantee anything, which only means one thing: They don't believe in Ukraine's ability to pay," Medvedev said.
This may play well to the domestic audience, but in reality the West didn't provide the guarantees simply because it didn't have to: Russia's position in the dispute is too weak. It won't quit the IMF in a huff if it doesn't get the money, and its ability to help China and other big developing nations to build competing international financial institutions is limited by an economy that's shrinking with the oil price.
Russia probably would be repaid had it not annexed Crimea and fueled the war in eastern Ukraine. It probably won't be -- at least not in full -- because it did. That's the crux of the matter.
To contact the author of this story:
Leonid Bershidsky at lbershidsky@bloomberg.net
To contact the editor responsible for this story:
Therese Raphael at traphael4@bloomberg.net
Before it's here, it's on the Bloomberg Terminal.
LEARN MORE