Law
Justices Are Wise to Delay on Affirmative Action
College campuses are in no state to deal with a decision.
by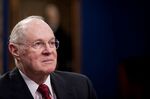 The last time affirmative action was before the Supreme Court, in 2013, Justice Anthony Kennedy, the court's swing vote, didn't want to decide the case, and the court sent it back to the court of appeals. Now, with campuses across the country roiled by racial debate and protest, the timing for a decision on the controversial issue is worse. And sure enough, at oral argument Wednesday, Kennedy strongly hinted that he'd like to send the case back -- this time to the trial court to develop the record and find more facts.
Kennedy was clever about it. He waited for Justice Samuel Alito, a strong critic of affirmative action, to raise the issue that troubles him the most about the University of Texas's admissions policy.
Specifically, Alito is troubled by the university's claim that it doesn't achieve a sufficient diversity of perspectives by automatically admitting the top 10 percent of every Texas high school's graduating students. The university pointed to evidence that, when it relied simply on its 10 percent plan, the vast majority of its classes -- as many as 90 percent -- had either one or zero black students. Thus, the university claimed, it was justified in adding race as a factor to what it calls its "holistic" admissions process, which accounts for a quarter of all admitted students. Adding race as a factor to its holistic review, the university doubled admissions of black students and increased Latino admissions by roughly a third.
Alito attacked the university's argument by asking if the university could tell whether students "admitted under the 10 percent plan were less likely to choose to enroll in the classes in which minorities are underrepresented than the students who were admitted under holistic review."
Alito's point was that the university technically isn't claiming to increase diversity just by having more minorities -- it's claiming that admitting specifically those minorities who come from the holistic review process enhances diversity. To know whether this is true, Alito was saying, you'd need a more fine-grained understanding of who took which classes.
And, of course, Alito expected the answer to be that the university couldn't tell who was who – thus making its diversity rationale unconvincing.
At this point, Kennedy swooped in. "It does seem to me," he interjected, "as Justice Alito's question, and frankly some of the other questions have indicated, that the litigants, and frankly this Court, have been denied the advantage and the perspective that would be gained if there would be additional fact-finding."
Kennedy referred specifically to the "instructions" that he gave the lower court in the 2013 iteration of the case. And he summed up the problem bluntly: "We're just arguing the same case. … It's as if nothing had happened."
Kennedy has a point, albeit an ironic one. Most observers thought that Kennedy sent the case back to the lower courts in 2013 to buy more time. So perhaps it's not terribly surprising that the U.S. Court of Appeals for the Fifth Circuit declined to remand the case to the district court for fact-finding.
Yet, in fact, the university, seeking to buy more time, did ask the appeals court for a remand -- and was denied.
Kennedy pointed out that the university wasn't given the chance "to add additional evidence" to meet the standard of strict scrutiny that the 2013 case insisted must be applied to its admissions process.
Justice Antonin Scalia was predictably scornful of Kennedy's suggestion. "So we're going to say, oh, they failed to put it in. Let's give them another chance," he rejoined. "Let's do a do-over … so they can now put in what they should have put in in order to prevail the first time around."
But of course Scalia isn't the intended audience for Kennedy's remand proposal. In truth, the real audience is nobody but Kennedy himself, who can easily convince the three liberals to order a remand. (Justice Elena Kagan recused herself.)
Seeking to strengthen his argument, Kennedy later asked counsel for the university, "Why did you want a remand? Because you wanted to expand the summary judgment record?"
The university's lawyer, Gregory Garre, who served a six-month term as solicitor general at the tail end of the George W. Bush administration, was a little slow to pick up the hint. First, he said, "if you feel that there are deficiencies in looking on a more granular basis … we can put that evidence in."
This wasn't the answer Kennedy was looking for: He wanted the university to say that it had always wanted a remand, not that it would be willing to ask for a remand to satisfy him.
And indeed Kennedy became frustrated with Garre when the lawyer said the district court and appellate court had already made findings based on the existing record. "What you're saying," Kennedy told him, is we have a remand "only if we lose." That generated laughter in the court, where the insiders of the Supreme Court bar knew exactly what was going on.
Kennedy doesn't always write opinions that reflect his comments at oral argument. But the upshot of the oral argument in my view is that Kennedy -- the one person whose vote is genuinely in doubt -- seemed eager to avoid a decision on affirmative action yet again.
Given his current status as a liberal icon in the aftermath of last June's gay marriage decision, Kennedy no doubt would like to enjoy a bit of a honeymoon before alienating liberals, as he would do if he struck down affirmative action.
But more important is the question of timing. Kennedy thinks that America's campuses aren't ready for a controversial affirmative-action decision right now. And you know what? He's right.
(
Corrects number of liberal justices hearing affirmation-action case in 13th paragraph of article published Dec. 10.
)
To contact the author of this story:
Noah Feldman at nfeldman7@bloomberg.net
To contact the editor responsible for this story:
Brooke Sample at bsample1@bloomberg.net
Before it's here, it's on the Bloomberg Terminal.
LEARN MORE