Latin America
One (Small) Step Toward Venezuelan Democracy
Don't be fooled by President Maduro's grace after an electoral defeat. There's plenty of time for mischief.
by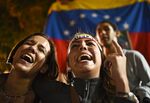 Eleventh-hour wage hikes, soldiers forcing polling places open after hours, permits revoked for election observers: Hand it to Venezuelan President Nicolas Maduro for trying.
In the end, however, none of his Yanqui bashing or authoritarian sleights of hand made much of a difference for his sinking government in legislative elections on Sunday.
After 16 years under the spell of the so-called Bolivarian revolution, Venezuelans turned out in convincing numbers to say enough. By Tuesday morning, with all but a few ballots counted, candidates aligned with the Democratic Unity Roundtable, the lead opposition bloc, had won the race to control the National Assembly by a landslide: 107 seats to 55 for government allies, with 5 seats still undecided.
Opposition leader Henrique Capriles Radonski predicted that the opposition had won even bigger, taking 112 seats, or two-thirds of the unicameral body. That would be enough to change the constitution, censure or sack ministers and make life miserable for the president.
The margin of victory wasn't the only surprise. "We have come with our honor to recognize these adverse results," said a startlingly gracious Maduro as he acknowledged the rout late Sunday night. "The constitution and democracy have triumphed."
For anyone familiar with the official script out of Caracas, this was strange. Where was the chest-thumping strongman who vowed to "go out on the streets" to save the revolution?
Don't be fooled. What may sound like a deathbed conversion is more likely a strategic retreat. "Taking the high road makes sense," Michael Shifter, president of the Inter-American Dialogue, told me. "It allows Maduro to claim that Venezuela is a democracy."
Maduro had inspiration. Think of Hugo Chavez, circa 2007, when the cagey founder of what he called 21st-century socialism lost a referendum to abolish presidential term limits. Chavez humbly pledged to honor the outcome, then tightened his grip on power and critics. Two years later term limits were gone, clearing the way for Chavez to stay in power indefinitely.
When Chavez died of cancer in 2013, Maduro inherited the comandante's tricks but not his skills. And that is a mixed blessing for the new leadership coming to congress. A recent Pew Research Center survey showed Venezuelans dissatisfied with Maduro but hardly enchanted with his opponents, a 27-party patchwork splintered by rivalries.
The sitting legislature steps down on Jan. 5, leaving plenty of time for mischief. There's ample precedent. Just this October, for example, the government convinced 13 supreme court judges to take early retirement, allowing Maduro the opportunity to restack the high bench without interference from a hostile congress.
Maduro recently hinted at invoking the Popular Power law, ginned up by Chavez in 2010 in case the revolution went south. It created a network of citizen communes, theoretically empowered to set up a parallel government and overrule congress.
The days when tyrants can steal elections and smother democracy without consequence appear to be numbered, however. Recently, Luis Almagro, head of the Organization of American States, warned Venezuelan authorities to fix the skewed electoral system, which he said imperiled a free and fair vote. The warning was remarkable coming from the OAS, a clubby compact that rarely raised a fuss over a companero's authoritarian excesses.
Then came Mauricio Macri, the Argentine pro-business politician who called out Venezuela for human rights abuses shortly after winning his country's presidency. He's promised to press his neighbors to expel Venezuela from Mercosur, a regional trade bloc founded as a union of democracies.
That may not happen. Brazilian President Dilma Rousseff, for one, saw "no facts" to back charges that Venezuela is undemocratic. Still, it's worth noting that Maduro has lowered his voice as the international outcry has grown. Like most modern autocrats, Maduro wants to control democracy and flaunt it, too.
By turning out on Sunday for an election the world was watching, Venezuelans have just made that trick a lot trickier.
To contact the author of this story:
Mac Margolis at mmargolis14@bloomberg.net
To contact the editor responsible for this story:
Jonathan Landman at jlandman4@bloomberg.net
Before it's here, it's on the Bloomberg Terminal.
LEARN MORE