Declassified
Ryan Warns That Trump Rhetoric Could 'Doom' Republican Party
Front-runner's anti-Muslim rhetoric puts the rest of the party in an awkward position.
by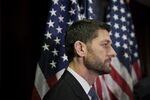 In a private session with Republican lawmakers Tuesday morning, House Speaker Paul Ryan warned members of Congress not to follow Donald Trump's call for banning Muslim immigration to the United States. The Republican presidential candidate's idea, he said, would violate the Constitution and hurt the party.
According to people in the session, Ryan said that in his view, Trump's idea violated at least two amendments in the Bill of Rights, including the First Amendment freedom of religion. Ryan also said that if Republicans followed Trump down that route, it could "doom our party," according to two attendees, one of whom took notes during the meeting. AshLee Strong, Ryan's press secretary, confirmed the general accuracy but not the specific wording of Ryan's remarks as conveyed to me by those two.
Speaking to reporters after the meeting, Ryan criticized Trump's idea but did not name Trump.
"What was proposed yesterday is not what this party stands for, and more importantly, it's not what this country stands for," Ryan said publicly, adding that he had told members of his conference to uphold the Constitution as they had sworn to do.
There are Muslims serving in the House of Representatives and dying in the U.S. armed forces, Ryan told reporters, saying that most Muslims are America's best allies in the fight against terrorism and that the vast majority "believe in pluralism, freedom, democracy and individual rights."
Trump has put the Republican Party in a bind. Almost all Republican leaders want to distance themselves from Trump's most odious ideas while still criticizing the Obama administration as being too lax on terrorism, refugees and homeland security. Just when Republican leaders think they're figuring out how to strike that balance, Trump ratchets up his rhetoric and makes it harder.
On Monday evening, two senior House aides told me, Republican House leaders debated Trump's call for a ban on Muslim immigration and decided to publicly reject it. But they also decided to proceed with legislation that would tighten restrictions on refugees and citizens from Middle East countries coming to the United States. 
The House passed a bill last month that would severely restrict the admission of refugees from Syria and Iraq. Members of the Freedom Caucus, a group of conservative Republican lawmakers, are pushing the leadership to attach that legislation to the upcoming omnibus spending bill, in order to pressure the administration into accepting it. Obama officials have said the legislation is burdensome and counterproductive.
On Tuesday, the House is expected to pass another piece of legislation to tighten rules under the Visa Waiver Program, which allows citizens of dozens of countries to visit the U.S. without prior approval. The bill would deny visa waiver privileges to anyone who is from or has visited Iraq, Syria or any other country where there is "significant terrorist activity." That bill has bipartisan and administration support and is expected to pass easily.
To contact the author of this story:
Josh Rogin at joshrogin@bloomberg.net
To contact the editor responsible for this story:
Philip Gray at philipgray@bloomberg.net
Before it's here, it's on the Bloomberg Terminal.
LEARN MORE