Labor
Paying Everyone $70,000? It Won't Start a Revolution
Flat salaries at Gravity are an experiment that can't become the norm.
by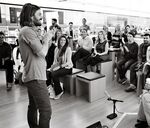 Remember the guy who decided to slash his own salary and pay all his employees $70,000 a year? How could you not? The man has been the subject of more laudatory news coverage than an Apple device. Conservatives have speculated that he would drive his company into bankruptcy; liberals have speculated that he represents a new, kinder capitalism. Karen Weise of Bloomberg Businessweek dug into the story, however, and found something much stranger.
Weise's extraordinary reporting should be read in full. Her dogged legwork revealed that the story of a boss who had an epiphany about the unfair nature of modern labor relations, and instituted a brand new model in the face of daunting obstacles, including a lawsuit from the brother who owns shares in his firm, may not be exactly what it seems. The lawsuit appears to have preceded the new salary policy, and may have been motivated not by Dan Price overpaying his workers, but by the salary that Price was paying himself, at the expense of his minority shareholder. This raises the possibility that the new pay scale may have been intended in part to spite his brother.
There are a lot of morals buried in this new and more complicated tale. Reporters should never accept at face value the explanations offered for dramatic and unlikely behavior -- such as slashing your own pay, emptying your retirement accounts and mortgaging your home, in order to pay your workers more than the market demands. It is unusual for people to sacrifice so much for altruistic ends. However it is quite common for people to sacrifice so much to get revenge, particularly on family. (Just ask any divorce attorney.)
That said, even if the motive was mostly spite, that doesn't necessarily discredit the act. And it's still a useful real-world experiment. We don't know what really happened in Price's case, but it's a good object lesson.
For those of us outside Dan Price's family, the pressing questions are: Is this a new labor model? Could it work elsewhere?
Recent reporting suggests that Gravity may have actually benefitted from the move. While early on it cost the company customers, either because they had political objections to Price's public statements or because they worried that fees were going to go up, now the salary decision may be helping Gravity.
All that publicity has attracted new customers. And while some employees might leave because they don't like getting paid exactly the same as co-workers who are less productive, the new pay is probably going to attract -- and retain -- some pretty good workers who don't care what the guy in the next cubicle is making, as long as they personally can pull in more than they could elsewhere.
So as a labor model for Gravity, this doesn't necessarily look bad; Price may have done something good for his workers and good for his company, regardless of whether his heart was in the right place. On the other hand, the upside also illustrates the limits of this approach. A new labor model for Gravity isn't the same thing as a new labor model for the American economy.
After all, the publicity came only because what Price was doing was so radically different from what other companies do. If every company were doing this, the marketing benefit would be zero. Heck, even if a few companies try to follow suit, the second company is likely to see much less good publicity than the first, and the third will get even less than that. By the time you hit the 10th or 20th company instituting a flat, high salary scale, the benefit in terms of increased sales would probably be close to zero.
Of course, that still leaves the labor side. Couldn't Gravity see higher profits not because publicity attracted new customers, but because the company attracted more productive workers? And the answer is sure -- if it's in an industry where an excellent worker is capable of producing, say, 50 percent higher profits than a mediocre one. I can't say whether payment processing is such an industry. I can say that this, too, works only if relatively few people are doing it.
Paying your workers more to get more productivity is what economists call an "efficiency wage." Why are workers who get these wages, well, more efficient? There can be multiple reasons:
Paying workers more than other workers in their skill class makes them feel warmly toward you. Humans are hard-wired for reciprocity: When someone gives us something, we feel obligated to give them something in return. So if you treat your employees extra well, they feel obligated to treat you extra well.
Workers know that if they lose this job, they are likely to end up with a job that pays less. They are thus highly motivated to keep this job.
Employers get to be choosier about whom they hire.
The wage attracts people with better skills.
What's notable about all of these effects is that they work only if you're paying a high wage relative to the rest of the market. It's all relative. A garment worker from 1900, if transported to a modern Wal-Mart, might be weepingly grateful to get such an easy job, in a comfy, climate-controlled place, paying such magnificent wages. That doesn't mean that a modern worker counts their lucky stars every time they put on that blue smock. These effects are relative, not absolute, so if everyone started paying higher wages, the productivity benefits would disappear.
Now, there is a theoretical way that we have all jobs pay more, and get higher productivity thereby: unemployment could rise dramatically. Low-skilled workers who are apt to be less productive would not be part of the labor pool, and the average productivity of the remaining workers would rise -- plus the folks with jobs would probably work harder, because a new job is harder to get if you lose your old one. That's not exactly a feel-good tale about "kinder capitalism."
And in the end, neither is the tale of Gravity. A lot of people wanted Price to be a man with a beneficent dream who did well by doing good. They wanted him to be an example for others to follow. Now it's not clear that he was primarily trying to do good. And whether or not he did so accidentally, it's probably not an example that many other companies can profitably follow.
To contact the author of this story:
Megan McArdle at mmcardle3@bloomberg.net
To contact the editor responsible for this story:
Philip Gray at philipgray@bloomberg.net
Before it's here, it's on the Bloomberg Terminal.
LEARN MORE