Labor
Not Working in the Coal Mine
Jobs were disappearing long before new environmental rules.
by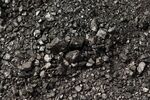 It was another solid jobs report today, with an estimated 211,000 new workers on nonfarm payrolls in November, and October's gains revised higher as well. There were big employment increases in construction, health care and this recovery's biggest job engine, professional and business services.
Not in coal mining, though! On a seasonally adjusted basis, employment at U.S. coal mines fell by 1,300 in November, to 64,900. It's down 24,900 since hitting a post-2000 peak in January 2012.
In coal country, especially in Kentucky and West Virginia, President Barack Obama gets a lot of the blame for this decline. This isn't entirely unfair -- the Environmental Protection Agency's carbon-pollution standards for power plants, first announced in 2012 and completed in August, will surely depress demand for coal. But there have been lots of other forces at work since 2012: private efforts to shut down coal-fired power plants 1 ; fast-rising U.S. production of cheaper, cleaner natural gas; a global collapse in commodity prices. And the big decline in coal-mining employment actually occurred long before 2012:

This wasn't because coal mining itself was in decline -- U.S. coal production hit its peak in 2008, at 1.17 trillion tons. It's because it had shifted from the underground coal mines of Appalachia to the open pit mines of the West 2 , and surface mining is a lot less labor-intensive. Wyoming passed West Virginia in the 1980s to become the biggest coal-producing state, and has mostly built on its lead since.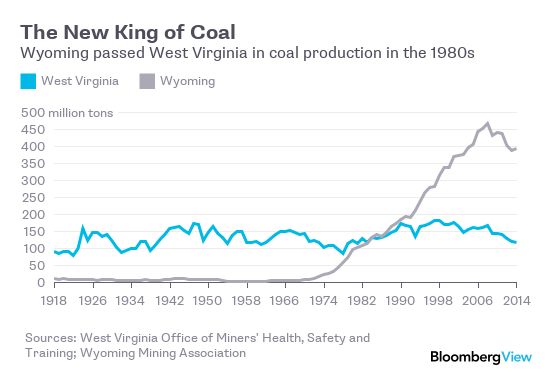 But even now, with more than three times West Virginia's production, Wyoming's mines employ many fewer people.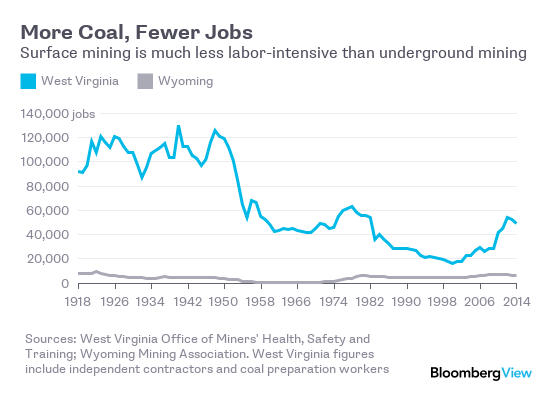 As noted in the chart above, the West Virginia numbers include independent contractors and coal-preparation workers. I couldn't find those statistics for Wyoming, but I don't think they would change the picture by much. In the labor-intensive West Virginia mining business, though, there's been a big shift away from employees to independent contractors. In 2003, the first year the state kept track of the number of independent contractors working at mines, there were 14,871 coal mine employees in the state and 5,407 independent contractors. In 2014 it was 18,159 coal mine employees and 28,940 independent contractors.
This doesn't appear to be Uber for coal mining. Instead, the owners of coal mines contract with smaller companies to bring in workers. A 1993 Charleston Gazette investigation contended that A.T. Massey Coal Co. (now Massey Energy, the company whose ex-chief executive officer was convicted Thursday of conspiring to violate mine safety rules) pioneered this practice as a way to cut wages and benefits and skirt environmental and safety rules. But that clearly didn't slow the use of contractors in West Virginia. There's no such employee/contract breakdown for just coal mining in the Bureau of Labor Statistics' national monthly payroll data, but there is evidence that employment in mining of all kinds has shifted from the mining companies themselves to providers of "support activities":

When you add in the support workers, mining employment has actually held up reasonably well since the early 1990s. But those with mining-support jobs aren't paid as much as those directly employed by mining companies 3 , and mining-support companies have shed 47,900 jobs since January 2012.
The upshot here? No matter who wins the next election, don't plan on a career in coal mining.
Yes, thank you for asking! Michael Bloomberg, the founder and principal owner of Bloomberg LP, the publisher of Bloomberg View, has in fact been deeply involved and his philanthropy has contributed to some of these private efforts. Michael Grunwald described them in Politico earlier this year.

They've also been doing more surface mining in Appalachia by removing mountaintops and such.
To contact the author of this story:
Justin Fox at justinfox@bloomberg.net
To contact the editor responsible for this story:
James Greiff at jgreiff@bloomberg.net
Before it's here, it's on the Bloomberg Terminal.
LEARN MORE