Cars
Hey, Candidates, Can't You Hear America Booming?
U.S. auto industry's success contradicts a narrative of decline.
by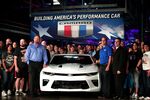 Presidential campaign oratory has become a discourse of doom, a chronicle of complaints about supposed American decline. But wait! No candidate is invoking that favorite symbol of enfeebled U.S. might, the auto industry. Why not? Because it's booming and telling the opposite story, one of U.S. greatness in the world today.
Auto sales doubled since 2009, the strongest advance since at least 1976, when the Oldsmobile Cutlass Supreme was America's best-seller. The Detroit Three -- General Motors, Ford and Fiat Chrysler -- are selling more vehicles, are more profitable and returning more to shareholders than they did in 1994, when they had twice their current share of the U.S. market.
U.S. Automakers Sell Twice as Many Cars

These companies and their suppliers are making more money than their global peers and creating weekly earnings for their workers at a faster rate than any other industry, with wages that any contender for the White House should be smiling about.
Since January 2009, when Barack Obama became president and committed his administration to the bankruptcy-led restructuring of GM and Chrysler, Ford provided a total return (appreciation and income from dividends) of 774 percent. GM returned 15 percent since its initial public offering out of bankruptcy in 2010, and Fiat Chrysler 55 percent since its IPO in 2014. Every $100 invested in GM, Ford and Fiat Chrysler almost seven years ago, is worth $874, $115 and $155 today.
This windfall repaid most of the taxpayer bailouts and dwarfed the lucrative returns from any part of the stock market, where the big and small companies that make up the Russell 3000 Index turned $100 into $298 since 2009. The Russell Consumer Discretionary Index, which includes automakers, returned 339 percent.
Even as they cede a greater share of the U.S. market to foreign rivals, the American auto industry's return  since 2009 is more than four times the 478 percent of their global peers, including Toyota, Hyundai and BMW.
For the first time since at least 2010, when Bloomberg began compiling such data, the U.S. car makers are the most profitable in the world as measured by their gross margins.  The U.S. firms' gross margin is 1.4 percentage points greater than their global rivals. 
To be sure, competition from foreign auto makers has never been so strong. In 1994, about 33 percent of the new cars sold in the U.S. were made by GM, which has about 18 percent of the market now. Ford had 25 percent of the market more than 20 years ago and has 15 percent today.
Market Share Falls for GM and Ford

Still, the doubling of U.S. auto-company sales is especially significant because the automakers' revenue outperformed at least 30 years of history by beating the moving average for 51 consecutive months -- the longest streak since 1976 when Bloomberg began compiling such data. The robust sales enabled Ford to increase its workforce 20 percent and GM 3 percent since 2010. That made their employees eight times busier than labor hired for other industries as the average weekly work hours for the auto industry increased 16 percent since 2009. The comparable rate for other industries is 2 percent, according to Bloomberg data.
Warren Buffett, the world's most influential investor, bought 10 million GM shares during the second quarter of 2012 and now owns 50 million shares, according to the most recent filings. GM has handed investors like Buffett a 96 percent total return while the Standard & Poor's 500 Index produced 64 percent. Even though the car makers and auto suppliers outperformed the U.S. stock market since January 2009, they still are trading at a 47-percent discount to the U.S. stock market in terms of their ratio of stock price to earnings before interest, taxes, depreciation and amortization. The average discount for these stocks during the past five years was 35 percent, which means auto stocks still are cheap.
What is good for General Motors also has been good for the U.S. economy as the world's car makers expanded their workforce. Since January 2009, five of the seven states where there are automobile factories also are among the 25 states with the greatest growth in jobs. Employment in Michigan increased 12 percent and jobs in the auto industry there surged 65 percent.
Auto Jobs Surge in Michigan

As good as 2015 has been -- November marked the third consecutive month of an annual sales rate greater than 18 million, which all but assures that the industry will break the 2000 annual record of 17.34 million -- the outlook is even better.
"U.S. automakers are in the best competitive position ever," says Kevin Tynan, an industry analyst for Bloomberg Intelligence. That's because "GM, Ford and Fiat Chrysler make products that are much more global and complete than at any point in their history. The profitability, design, quality and technology of these companies is now world-class," he says. 
(With assistance from Shin Pei)
This column does not necessarily reflect the opinion of the editorial board or Bloomberg LP and its owners.