Editorial Board
Paul Ryan Has an Idea
The House speaker could be a powerful force for good in U.S. politics.
by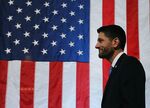 If it's brave to state the obvious -- and in Washington, it often is -- then Paul Ryan may be the most courageous man in Congress. "If we want to save the country, then we need a mandate from the people," the Republican leader said in a speech Thursday at the Library of Congress. "And if we want a mandate, then we need to offer ideas. And if we want to offer ideas, then we need to actually have ideas."
Yes, he prefaced this bit of transitive logic with the obligatory jabs at President Barack Obama. But it's clear that Ryan, who became the speaker of House just more than a month ago, is issuing a challenge not to the president but to his own party.
A lack of ideas has been the most glaring void in Republican governance in Washington, where too many legislators have adopted the role of Greek chorus, bewailing the tragedy on stage while keeping a safe distance from the action. It's worth pointing out that neither the party itself, in its many redoubts in the states, nor the conservative movement as a whole, in the think tanks and policy shops of the capital, suffers from this defect. But too many Republican members of Congress -- especially in the House -- are uninterested in constructive debate. 
Ryan wants to turn a chorus of critics into a governing majority. Given the schisms in his party, it won't be easy. The speaker soon faces an early test: He'll have to corral the votes for a viable spending plan to be signed into law before funding for the government expires next Friday.
Yet Ryan's ambition is the right one. He promised "a tax code that rewards good work instead of good connections," an overhaul of federal poverty programs, even an actual Republican plan to replace Obamacare (better six years late than never, as the saying goes). 
Ryan's tone was as notable as his goals. His 2011 "Path to Prosperity" was introduced with an alarmist polemic about a nation on the "brink of bankruptcy." Since then, unemployment and the federal deficit have plummeted, the markets have rebounded and the nation has grown stronger.
His speech is no embrace of Pollyannaish thinking, but it avoids the misguided gloom that remains a staple of the Republican presidential campaign. His vision, encapsulated in the title of his speech, is a "Confident America." If Ryan can confidently articulate a more positive vision for his party, attach pragmatic policy to it and rally his colleagues around it, he will be a powerful force for good in Washington. 
--Editors: Francis Wilkinson, Michael Newman.
To contact the senior editor responsible for Bloomberg View's editorials: David Shipley at davidshipley@bloomberg.net .
Before it's here, it's on the Bloomberg Terminal.
LEARN MORE