view
Why QE Isn't the Answer for China
Making money cheaper will only swell the country's eye-popping overcapacity problems.
by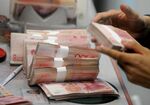 The first of the month means one thing in China: more gloomy numbers. On Tuesday, the official purchasing managers' index fell to its weakest level in three years. If analysts aren't panicking, that's partly because the benchmark lending rate still stands at 4.35 percent. The central bank has plenty of room to juice the economy with rate cuts, as its counterparts in the U.S., Japan and Europe have done for years.
That assumption, however, may be flawed. The People's Bank of China has already slashed rates six times in a year, without producing any uptick in growth. To the contrary, deflationary pressures remain intense: Factory-gate prices have declined for four years running, falling six percent annually. Further easing might actually make the problem worse, not better.
This flies in the face of post-crisis orthodoxy. Since 2009, as inflation rates have converged to zero and growth slowed across the world, central bankers have almost uniformly sought to stimulate their economies using various loose-money policies. The Fed, Bank of Japan and ECB have all lowered interest rates and made more credit available in hopes of spurring investment and demand. Though inflation remains subdued in the major developed economies, the underlying logic behind quantitative easing hasn't been seriously questioned. The consensus is that without these radical interventions, the world's biggest economies would be in even worse shape than they are.
China is in a category of its own, however. Its reaction to the financial crisis -- much praised at the time -- was to launch a credit-fueled investment-and-construction binge. Using borrowed capital to build roads, airports, factories and homes at a frenzied pace has created massive overcapacity throughout the economy. To take just one example, China will install around 14 gigawatts of solar panels in 2015. Yet domestic panel-manufacturing capacity dwarfs this number: According to the Earth Policy Institute, in 2014 Chinese manufacturers produced 34.5 gigawatts of solar panels. The world as a whole only installed 38.7 gigawatts that year. In other words, Chinese manufacturers alone could meet nearly 90 percent of global demand. 
This yawning gap between capacity and demand is what's driving the precipitous fall in prices. A recent Macquarie report found that the Chinese steel industry is losing around 200 yuan ($31) per ton because its mills are churning out too much steel. One might think manufacturers would scale back production to bring things into balance. But as Macquarie notes, "mills are concerned about losing market share and having to spend fresh capital to resume operation if they stop producing now." At the same time, Chinese "banks have been pushing mills to stay in the market so they don't have to admit large bad loans." So instead, companies continually slash prices in an attempt to survive and generate cash flow to fight another day.
In this environment, further monetary easing will likely only drive down prices further. This happens in two ways. First, cheap loans encourage companies to build more capacity, in the belief that there's an implicit government guarantee attached to investment approval and continued growth means becoming too big to fail.For instance, Chinese electricity demand is only growing about 1 percent annually and existing power plants are operating at less than 55 percent of their capacity. Yet China's spending another $74 billion to increase capacity at its coal-fired electrical plants by 15 percent. That doesn't bode well for prices.
Second, lower rates keep alive zombie companies that should by rights be dead. Under pressure from the government to forestall defaults and possible layoffs, state banks continually extend new lending as a lifeline. Hua Chung Securities estimates that in 2015, half of all new loans will go toward paying interest on existing loans. This preserves surplus capacity in the market and encourages companies to continue to produce at uneconomic costs.
Credit in China is still growing about twice as fast as nominal GDP, while fixed-asset investment is registering double-digit growth. What the country needs is precisely the opposite. Weak firms with large debts need to be liquidated in order to squeeze overcapacity out of the system. The process needs to be managed carefully, with layoffs minimized through attrition as far as possible (which should be possible in a rapidly graying society) and capital dedicated to ensure banks stay healthy. Distressed-asset managers such as Cinda can be useful sources of expertise in unwinding non-performing loans.
This challenge cuts to the heart of the Chinese Communist Party's claim on power. Leaders can't allow rapidly rising unemployment or miss growth targets without citizens and investors questioning their competence. Unfortunately, the alternative -- prolonged deflation and a steady rise in debt and soured loans -- is worse.
To contact the author of this story:
Christopher Balding at cbalding@phbs.pku.edu.cn
To contact the editor responsible for this story:
Nisid Hajari at nhajari@bloomberg.net
Before it's here, it's on the Bloomberg Terminal.
LEARN MORE