European Economy
An Infrastructure Bond to Bridge Europe's Divide
The EU needs stimulus and a show of solidarity.
by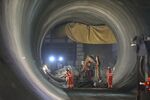 Addressing a conference in Athens Monday, Greek Finance Minister Euclid Tsakalotos was blunt: Europe, he says, "needs to show solidarity with its members." Richer countries able to borrow what is effectively free long-term money must use that power, he argued, to help their less fortunate peers:
Northern countries could increase their investments. Given interest rates in the Netherlands and Germany, there are no investments with a clear net positive value currently. This would be most helpful for countries in the south. 
He's right. Even the U.K., arguably the poster child for austerity, is spending billions on infrastructure, including the Crossrail railway project, Europe's biggest construction scheme, as well as the High Speed Two railway plan to improve links between London and the north of England. And European Commission President Jean-Claude Juncker's investment plan is an acknowledgment that the real economy needs some public sector help at this juncture. 
As Jean-Paul Michel argued here recently, euro members have used the breathing space provided by QE to increase social spending rather than strengthen their economies, with France and Italy notable in this regard. The growing gap has left the euro project in desperate need of cement to prove that it is more than one big trade agreement wrapped around a fixed exchange-rate regime.
Other projects are foundering too. Efforts to build a cross-border banking union have stalled over Germany's opposition to a banking deposit scheme, which Berlin fears will lead to rich countries underwriting the banking mishaps of poorer neighbors. The Schengen guarantee of free movement of people is crumbling under the weight of the worsening refugee crisis, with many already writing its obituary (notwithstanding its undoubted popularity among European Union voters). What's needed is a grand reaffirmation of solidarity and ambition.
One way to achieve this is by taking advantage of record-low borrowing costs to issue common bonds, using the cash to fund an infrastructure investment program. A bloc-wide fundraising program specifically designed to create jobs by investing in infrastructure — with the usual caveats about how bad governments can be at managing such projects — could accomplish several goals simultaneously. It's an opportunity to assert the bloc's wider ambitions to be a proper union of nations; at the same time it helps weaker members in their hour of economic need.
If Germany can overcome its distaste for common bonds -- in which euro nations team up to borrow money at the cheapest interest rates the world has ever seen -- the bloc can display unity and add some fiscal firepower to the European Central Bank's monetary efforts to resuscitate growth and avert deflation using quantitative easing. (I wrote in June about how common bonds could be sold without, for instance, leaving Germany on the hook if Italy couldn't pay its debts.)
QE seems to have helped head off a collapse in the euro zone economies by delivering ultra-low borrowing costs. And as the finance minister of a euro nation told me in an off-the-record briefing earlier this year: "QE has an element of mutualization; that helps to reinforce confidence in the euro system as a whole." But QE is already running out of firepower, which is why the bulk of respondents in a Bloomberg survey expect the ECB to expand the program when it meets this week. 
Moreover, the benefits of QE are not evenly distributed. Francisco Koutentakis, the general secretary for fiscal policy at the Greek ministry of finance, says the low interest rates the ECB is using to boost growth are of no use to Greece, which pays about 8 percent to borrow 10-year money compared to Germany's funding cost of less than half a percent. "We have to gain access to this extreme monetary easing, to these low interest rates," he told the conference in Athens. That won't happen while Greece is locked out of the public bond markets. But there's a way around that.
A common bond program for infrastructure investment would redistribute more of the benefits of lower rates to the poorer members. It would create a new class of bonds for the ECB to buy in its expanded program. It would signal a much-needed fiscal addition to the central bank's efforts.  And, perhaps most importantly, it would advertise to the world that the euro members are serious about sticking together.
To contact the author of this story:
Mark Gilbert at magilbert@bloomberg.net
To contact the editor responsible for this story:
Therese Raphael at traphael4@bloomberg.net
Before it's here, it's on the Bloomberg Terminal.
LEARN MORE