Sports
Which Kobe Bryant Will Fans Remember?
The Lakers star is an all-time great. He was also a lousy teammate.
by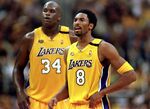 Kobe Bryant has decided that this season will be his last, posting a "Dear Basketball" farewell poem on the Players' Tribune Sunday afternoon. Among even those of us who are not Lakers fans, his dynamic talent on the court and his eccentric presence off it will be missed. For the Lakers, however, his immense contract and crippling salary cap hit won't be.