Editorial Board
Abandoning Coal Is Only a Start for U.K.
There's a way to ensure a clean-energy future.
by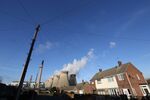 Britain, the country whose great coal-burning factories started the Industrial Revolution, now plans to retire nearly all its coal plants. The closures, part of an energy policy "course correction" announced last week, lay down an important marker ahead of the upcoming climate talks in Paris.