Sports
The Ivy League Origins of Thanksgiving Football
Princeton and Yale played, and the masses joined the elite.
by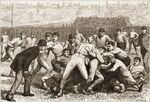 In these times Thanksgiving Day is no longer a solemn festival to God for mercies given. It is a holiday granted by the state and the nation to see a game of football.

No longer is the day one of thanksgiving to the Giver of all good. The kicker now is king and the people bow down to him.

The gory nosed tackler, hero of a hundred scrimmages and half as many wrecked wedges, is the idol of the hour.

With swollen face and bleeding head, daubed from crown to sole with the mud of Manhattan Field, he stands triumphant amid the shouts of thousands.

What matters that the purpose of the day is perverted, that church is foregone, that family reunion is neglected, that dinner is delayed if not forgot? Has not Princeton played a mighty game with Yale and has not Princeton won?

This is the modern Thanksgiving Day.
-New York Herald, December 1, 1893