view
Getting Tired of Black Friday
The shopping event may be falling out of fashion, but consumer frenzy probably isn't.
by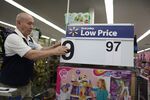 Going shopping on the Friday after Thanksgiving? That's still OK, I think. But "Black Friday" sure seems to have become unfashionable. 1
By this I mainly mean the practice of encouraging turkey-sated shoppers to stampede into stores in search of deals. This used to happen around 6 a.m. on Friday. In 2011, several big U.S. retailers moved their opening times to midnight; in 2012, Wal-Mart crossed the Rubicon and opened its stores at 8 p.m. on Thanksgiving Day.
These Thanksgiving intrusions aren't over. According to TheBlackFriday.com, Wal-Mart will open its stores at 6 p.m. this Thursday, as will Target, Kohl's, Macy's and Sears. J.C. Penney will open at 3 p.m., Old Navy at 4, Best Buy at 5. But after last year's Thanksgiving weekend retail sales fell 11 percent from the year before while overall holiday sales rose, some retailers have been reconsidering.
Customer-owned outdoors outfitter REI made the biggest splash by deciding to stay closed not just on Thanksgiving but on the Friday after. REI actually bought ads to announce this, so it was at least as much a (successful) publicity stunt as an assessment of shopping trends. Lots of other retailers (Staples, H&M and T.J. Maxx, to name a few) have said they will no longer open on Thanksgiving Day, and overall the trend seems to be moving away from trying to funnel deal-hungry customers into stores on Thursday and Friday. Also, in the U.K., retailers appear to have given up on their attempts to import the custom.
Even Wal-Mart, which is still going through the whole routine, seems a little sheepish about it. From a company news release:
More than one million Walmart associates will be serving customers on Thanksgiving Day. In appreciation for their hard work, the company will recognize them with additional pay, free dinner during their shifts and a 25 percent discount* on an entire basket of goods this holiday season.
The asterisk refers to this inimitably Wal-Mart-y clarification at the bottom of the release:
*Walmart's full-time and part-time associates will receive the 25 percent discount. Seasonal associates and those who have been with the company for under 90 days will receive a 15 percent discount. Limited to one basket for associates.
The Wal-Mart release also declares that "for the first time ever, the majority of Walmart's Black Friday deals will be available on Walmart.com." As Brad Tuttle details on Money.com, Black Friday deals have been migrating from Friday morning and Thursday evening in stores to online and/or in stores for the entire month of November. Cyber Monday has lost significance, too -- which makes sense, given that it got its start for the now-archaic reason that people had faster Internet connections at work and thus didn't begin their online shopping until they got into the office the Monday after Thanksgiving.
Another interesting angle is that, as my Bloomberg View colleague Barry Ritholtz has been proclaiming for years, the Thanksgiving-weekend sales figures released just after the event by the National Retail Federation -- and always given lots of play in the media -- shed almost no light on overall Christmas-season consumer demand. The NRF has been out, as Barry puts it, "to create a sense of consumer frenzy," and part of that has involved emphasizing the importance of Thanksgiving-weekend shopping. Now, as Black Friday shopping seems to be receding in importance, that's harder to do. Then again, given that the statistic about an 11 percent drop in Thanksgiving-weekend sales last year came from the NRF, it's at least possible that the whole narrative about Black Friday being in decline is itself based on bad data.
It's also possible that there's a broader cultural shift afoot. Nicole Gelinas, writing in the New York Post, sees the turn away from Black Friday hype as a victory for frugality and common sense:
People aren't as stupid as retailers think they are. They saw the artificially created stampedes for a piece of plastic that their kids will have broken or forgotten about in a few weeks, anyway -- and they said no.
I'd like to believe that. But I wouldn't be so sure that retailers can't find new ways to create artificial demand frenzies. The strange rise of "Singles Day" in China seems testimony to that. Black Friday may be getting tired. Buying stuff that's on sale probably isn't.
To contact the author of this story:
Justin Fox at justinfox@bloomberg.net
To contact the editor responsible for this story:
Mark Whitehouse at mwhitehouse1@bloomberg.net
Before it's here, it's on the Bloomberg Terminal.
LEARN MORE