Argentina's Second Chance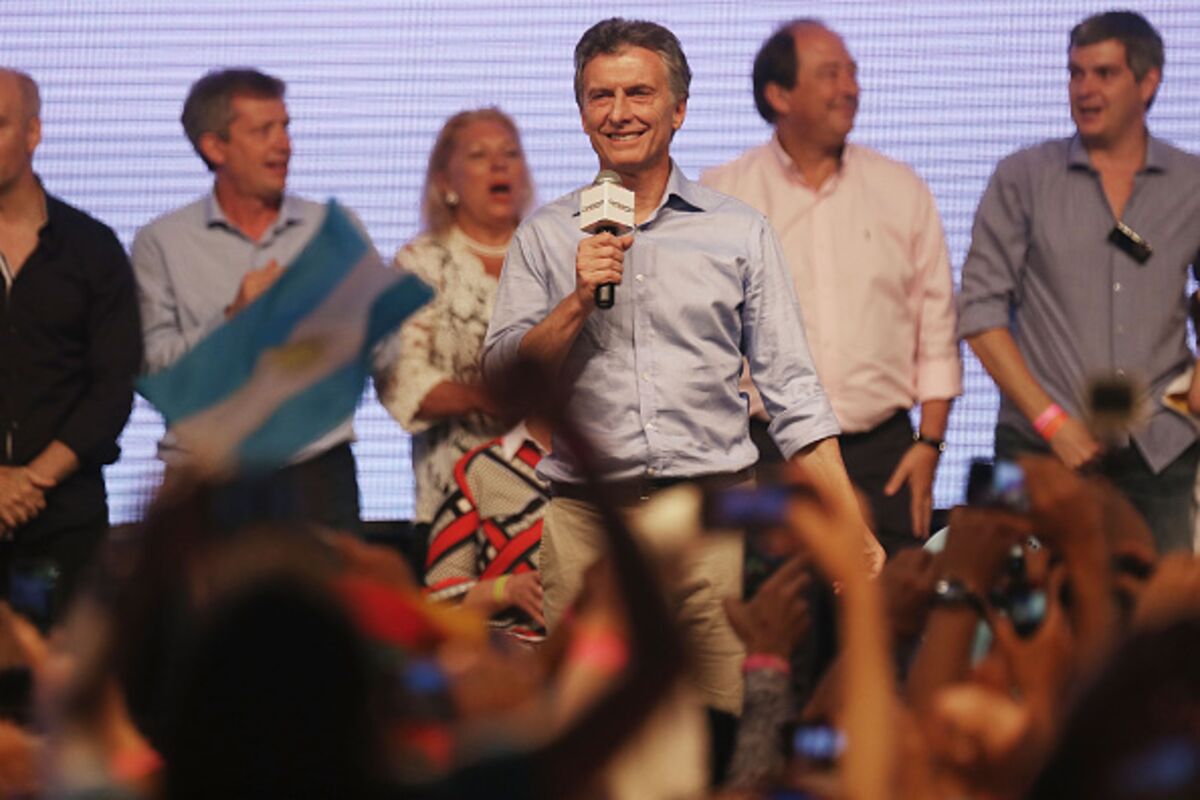 Argentina's man of the hour.
Photographer: Mario Tama/Getty Images
Mauricio Macri's victory in Argentina's presidential election has raised expectations of a big shift in policy after 12 years of leftist rule. Living up to those hopes won't be easy.
Macri's margin of victory was slender and he faces some formidable obstacles. To push through the economic liberalization he's promised, the new president will have to be a smart tactician and choose his targets carefully.
Argentina's reserves are at a nine-year low, and currency controls put in place by the administration of President Cristina Fernandez de Kirchner have created a black market that values the dollar at 15 pesos, versus 9.7 at the official rate. Macri's campaign promise to let the peso float right away would have triggered a big devaluation and immediate instability. Wisely, he's reconsidered. His first priority should be a fiscal program that restores the public finances, preparing the way for currency reform.
Macri also pledged to remove export taxes that have transformed Argentina's productive farmers into world-class hoarders. This too makes sense as a medium-term goal -- but in the short run and without offsetting measures, it would worsen the country's fiscal deficit, which stands at a 30-year high. Temporary export-tax relief, pending a full fiscal reform, is the best way to proceed.
Restoring Argentina's access to international credit markets is vital. That will take a deal with holdout creditors, reviled as "vulture funds" by Fernandez. Her party passed a law that requires any deal to be approved by the legislature, which is still dominated by Fernandez's party and other Peronist factions.
To win sufficient backing, Macri will have to contend with a larger historical legacy. During the 1990s, Argentina did a lot to free its economy and enjoyed a period of strong growth. Soon, though, it all went wrong because of fiscal indiscipline and an increasingly overvalued exchange rate. The crash that followed was harrowing -- and for many Argentines, discredited the very idea of liberalization. 
Macri's victory shows that voters are tired of heavy-handed populism and are willing to give pro-market reforms another chance. To seize the moment, the new president must be cautious but deliberate. He can't end export taxes in one fell swoop, but he can abolish export quotas. He'll have to move gradually on currency reform, but he can cut the tangle of red tape that suppresses trade without delay. Plans to fix the country's dodgy statistics needn't wait, nor his proposals to overhaul the economic policy-making machinery. Most urgent, though, are a new fiscal strategy and moves toward a settlement with creditors.
A lot is riding on Macri, and not for his country alone. If he puts Argentina's limping economy on a path to faster growth, he could help lift spirits across the wider region and turn global investors' attention back to Latin America's enormous potential -- something else that can't happen fast enough.
To contact the senior editor responsible for Bloomberg View's editorials: David Shipley at davidshipley@bloomberg.net.