Refugees
How to Win Friends and Influence Refugee Policy
Six bad arguments for the U.S. to take in Syrians ... and one more persuasive case.
by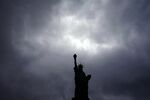 Perhaps you've seen the arguments on social media since the Paris attacks last Friday: One faction rants that of course the U.S. must take in huge numbers of Syrian refugees, and fast, because of course refugees are not terrorists. Another faction argues that literally any amount of risk at all is too much. And then there's Donald Trump, whose ideas about how to deal with the potential threat of Islamist terror are making me rethink my longtime ban on the use of the word "fascist" as a pejorative. 
Actually, scratch that. Not "arguments." The posts are not intended to convince anyone. They are to signal tribal loyalties to people who already agree with you, while you marinate in your own sense of moral superiority. 
If these factions want to convince other people, they're going about it all wrong.
I have no opinion about the best way to fight the Islamic State. President Barack Obama's restrained, mostly indirect support for enemies of the group in Iraq and Syria has certainly not stopped Islamic State. But I'm not going to criticize him for that unless I also have reason to believe that there is some other strategy that would work better. 
I do have an opinion about Syrian refugees: We should take more of them. Which is why I am so irritated by the people who agree with me but are structuring their arguments (rants) to be maximally counterproductive. 
If you have missed these terrible arguments, I am jealous of you. And I will give you a quick intro to what's happening and why it's terrible: 
Wielding scripture. People who are not Christian have been quoting Bible verses that support taking in strangers. As a general principal, you should not get into theological arguments over a faith you don't practice. You'll probably botch it, and the believers are well aware that you are only interested in these arguments as an instrumental means to some secular end. Freelance bishops, imams or rabbis from outside the faiths should all knock it off.
Mockery. The number of people who have ever been convinced to do the right thing because they were mocked as racists, idiots or bed-wetting pansies can be counted on the fingers of your nearest snake. People who want the U.S. to admit more Syrian refugees, and try to achieve that end by making fun of people who are worried about potential terrorists slipping in among them, could hardly have picked a more effective tactic for convincing our fellow citizens that we don't take national security seriously. Please to cease.
Circulating memes of arguable veracity. I've seen the same two talking points over and over on social media: that none of the 750,000 refugees welcomed by the U.S. since 9/11 have turned out to be terrorists; and that the Syrian passport found on one of the Paris attackers is false. These would be compelling arguments except that they rely on exquisite word-parsing rather than actually reassuring facts. (Quibbling about the technical definition of "refugees" and "domestic terrorism"; neglecting to mention that a fake Syrian passport was used to get one of the attackers into Europe via Greece, which is the opposite of reassuring.) These memes make our side less trustworthy to those we're trying to persuade, and are therefore counterproductive. 
"I don't understand how anyone can oppose admitting Syrian refugees! America is a nation of immigrants!" This kind of statement conveys layers of meaning. The first layer is the literal meaning of the words: I lack the knowledge to figure this out. But the second, intended meaning is the opposite: I am so vastly superior that I cannot even imagine the cognitive errors or moral turpitude that could lead someone to such obviously wrong conclusions. And yet the takeaway when I hear someone say this is a third meaning: I lack the empathy, moral imagination or analytical skills to attempt even a basic understanding of the people who disagree with me. In short, this argument says: "I'm stupid." 
Strawmanning the opposition. Perfectly reasonable people are worried that a small number of terrorists could pretend to be refugees in order to get into the U.S. for an attack. One response to these reasonable people has been: "How dare you say people fleeing terrorism are terrorists!" This is deeply silly. Obama administration officials have admitted that they can't be sure of screening terrorists out from asylum seekers.
Explaining that everything Islamic State does is really our fault, so we have a moral obligation to take in refugees fleeing a war it has escalated. Obviously, U.S. foreign policy has strongly shaped the region. And yet there's often a whiff of racism here. It reduces the citizens of these nations from complex human beings who do things for an array of reasons, to sort of amoebas responding only to stimulus from the U.S., which is why we have to take full moral responsibility for their actions.
It took me years of writing on the Internet to learn what is nearly an iron law of commentary: The better your message makes you feel about yourself, the less likely it is that you are convincing anyone else. The messages that make you feel great about yourself (and of course, your like-minded friends) are the ones that suggest you're a moral giant striding boldly across the landscape, wielding your inescapable ethical logic.  The messages that work are the ones that try to understand what the other side is thinking, on the assumption that they are no better or worse than you. So if you are actually trying to help the Syrian refugees, rather than marinate in your own sensation of overwhelming virtue, you should avoid these tactics.
That's "what not to do." Luckily, I think there is a more effective argument for taking in more refugees. It starts with recognizing that yes, the people who are worried have something to worry about. There's no perfect way to screen out Syrian terrorists from Syrian refugees. It may be that someone we let in will, eventually, do something horrible. In fact, that's a risk with any immigrant we let in, or for that matter, any baby we allow to be born.
But the risk is not as high as some think. First, it is very, very hard for a Syrian refugee to get into this country. A terrorist would be better off trying almost any other method to come here to attack us.
Second, we are actually quite good at detecting terrorists. Not perfect, by any means -- the Tsarnaev brothers slipped through intelligence scrutiny and bombed the Boston Marathon. But that's it. Two out of three-quarters of a million refugees we've taken in since 9/11.
Third, we do a really good job of integrating immigrants. We've been doing it for more than 200 years. We have our strains of xenophobia here in the U.S., but we don't force people to strip off religious and cultural signifiers, as France has with the hijab. We also don't help them to avoid assimilation. We treat them like Americans, and in the end, they become Americans, or their children or grandchildren do.
This is not to say that there is no risk in admitting Syrian refugees. But that risk looks fairly small. And against that risk, we should weigh the benefit to both Syrian refugees, and ourselves.
As long as you believe that it's a good thing to help strangers at some sufficiently small cost to yourself, then we can have a reasonable discussion about whether the costs outweigh potential benefits. Given that we're talking about taking in a relatively small number of refugees -- and that many of those refugees, and their children, will go on to contribute to this country as workers and citizens -- I think there's a strong case that this is the right thing to do, even if you think there is a tiny increase in our risk of suffering a terrorist attack.
And it's worth remembering that most of us are here because some earlier generation was willing to accept the risks that came with taking strangers into their borders. Our grandparents were eyed with suspicion, and not always entirely unfairly: Irish immigrants really did set up self-dealing political machines in the cities where they were numerous, anarchist bombers really did slip into the country amidst the immigrant waves at the turn of the 20th century.  Immigration brought the inevitable problems that come from smashing two different cultures together in the same space. But in the end, the generations before swallowed their worries about these things, and gave our grandparents sanctuary. And that's how immigrants got the chance to build the America of today.
Those of us who are here because our ancestors were given a chance, despite the risks, should be looking for chances to pay it forward where we can. And given the small number of refugees we're talking about, I think this is one of those chances.
To contact the editor responsible for this story:
Philip Gray at philipgray@bloomberg.net
Before it's here, it's on the Bloomberg Terminal.
LEARN MORE