Editorial Board
Obama Needs to Lead, Not Scold, on Refugees
The best hope for Syrians: cooler heads and compromise.
by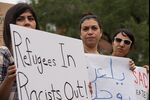 America's debate over allowing in Syrian refugees is not one of its prouder moments. And it's not just because of the xenophobic politicians or hysterical news reports. Those on the right side of history need to do a better job articulating their argument.
They include President Barack Obama, whose impatience with legitimate security questions does not serve a cause important to both American values and national security. 
The White House could certainly be more considerate of the requests of many governors for better information about refugees in their states. Why not convene a meeting with governors from both parties on all sides of this debate, showing that the administration takes their misgivings seriously, is open to improvements and, most importantly, wants to bring the discussion back to a rational level?
Such a discussion might not succeed in persuading those governors who have been most adamant about barring the refugees. But it could at least defuse some tension and maybe allow some salient facts to break through the rhetoric. For example, the screening process for refugees usually takes two years and involves many government agencies, including the National Counterterrorism Center. In addition, every applicant undergoes in-person interviews, has a check against the fingerprint databases of both the FBI and the Defense Department, and is subjected to what the State Department calls the highest level of security screening.
Americans should know all this, and they should also be asked to consider this question: Why would Islamic State try to infiltrate the U.S. through a bureaucratic logjam?
The president has some potential allies on the political right who could help in this debate. Evangelical groups such as World Relief and the National Association of Evangelicals, which see resettling the world's war victims as a central mission, have split with religious Republicans such as Mike Huckabee on the issue.
Finally -- and separate but related to the debate over Syrian refugees -- the White House should be prepared to consider broader reforms, such as tightening the State Department visa-waiver program for some European citizens. A bipartisan group of senators rightly says this is a greater security threat than refugee resettlement. Addressing this vulnerability would certainly be a better use of Congress's time than passing the legislation the House approved on Thursday, which would essentially halt the vetting process.
None of this is to excuse the deplorable rhetoric and nativism at the extreme of the anti-refugee movement. Yet reaching out to his reasonable opponents is the best thing Obama could do for both U.S. security interests and for the Syrians who deserve America's help.
--Editors: Tobin Harshaw, Michael Newman.
To contact the senior editor responsible for Bloomberg View's editorials: David Shipley at davidshipley@bloomberg.net .
Before it's here, it's on the Bloomberg Terminal.
LEARN MORE