Food
Imagine Thanksgiving Without the Stress
It's a holiday. Think "family," "tradition," "comfort food." Not "chipotle-molasses drizzle."
by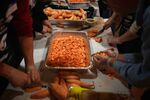 Every year you're supposed to come up with something amazing and new to do with the most scripted meal in the American culinary canon. Turkey crusted with Marash pepper and stuffed with truffled cornichons. Deconstructed mashed potatoes. 1 Green bean casserole that substitutes kale for the green beans and a smug expression for the cream-of-mushroom soup. Pumpkin-chocolate trifle with a chipotle-molasses drizzle.
I'm sorry, I can't. I just can't.
You know what we're having for Thanksgiving at our house this year? With minor variations, we're having the same thing we've had every year since my birth in 1973. There will be a turkey, roasted whole, because my oven cannot accommodate a spatchcocked 16-pound bird splayed over a sheet pan full of stuffing. It will be brined in a cooler, stuffed full of stuffing despite all the dire culinary injunctions against it, and cooked in the same undoubtedly subpar way we have always done it. My sister will make her homemade cloverleaf rolls, and stuffing with sausage, ginger and apple. There will be cranberry sauce, little creamed onions, mashed potatoes, and butternut squash, with bok choy for those who want greens. For dessert, there will be pie: apple, pumpkin, and perhaps, if we are feeling especially daring, cranberry-raisin.
Novelty is overrated at holidays. If you want to try planked salmon and braised leeks for the first time this year, then bon appetit. But the idea that we must have novelty, that a good cook is constantly seeking out new and better things, is a curse. The best parts of our lives do not require constant innovation; they are the best because they are the familiar things we love just as they are. When I hug my Dad, I don't think, "Yeah, this is pretty OK, but how much better would it be if he were wearing a fez and speaking Bantu?"
You know whether the traditions are working for you. If no one likes turkey, then jettison the bird. If the canned cranberry sauce lies untouched on the plate, then I suggest you experiment with homemade cranberry sauce (which is the easiest thing you ever cooked, I swear). If the green bean casserole is getting a less warm reception than it used to, try a different green vegetable.
Voila. The pressure for novelty is gone; only make a change if you want to. That eliminates half the cook's stress for this holiday. Even better news: You can eliminate the other half as well. Really. Stop making yourself crazy trying to simmer six pots on four burners and bake five pans in one oven.
You will be a lot happier if you do as much as possible ahead, or in appliances that are not your oven. Here's how.
Make things the day before. Not everything can be made ahead, to be sure. If you are going to use turkey drippings in your gravy, and boy howdy, you should, then you will pretty much have to wait until the turkey is well on its way to done. You're probably going to want to serve the turkey fresh out of the oven too. But many things can be made or purchased ahead, and heated up in the oven or the microwave at the last minute while the turkey is resting.
Cranberry sauce
Jell-O molds, salmon mousse or anything else served cold
Butternut squash
Sweet potatoes (if you must have marshmallows, heat in the microwave, then top with marshmallows and stick it under the broiler for a minute)
Par-baked bread from the supermarket
Dishes involving dried beans, chickpeas or lentils
Stuffing (which actually should be made the day before and then rested overnight)
Turkey stock for sauces and stuffing. Many butchers are wondering what to do with all those turkey necks. You know what to do with them: simmer them with mirepoix and herbs, and use the result in all your Thanksgiving dishes.
Make things earlier in the day. Turkeys take forever, which means that you've got a lot of time during the day when you could complete a few dishes at a leisurely pace, then reheat or serve cold at the last minute.
Green vegetables. Almost any green vegetable can be cooked early, cooled down, and then reheated at the last moment. The easiest way is to simmer your green beans, asparagus or whatnot in a saucepan with some salted water, cooking until just done, then plunge into ice water to stop them cooking. (This will also give them a lovely bright color.) Just before serving, heat them up in a saucepan with a little melted butter or olive oil, and toss with your sauce or flavorings.
No-knead bread. Start the morning before, then slap it into the oven in the hour before you want to start your turkey. This will also have the effect of preheating the oven for the turkey: take the bread out, put the turkey in, turn the temperature down.
Pies should also be baked in the morning, before you do your turkey. Roll out the pie crust the day before, so that all you have to do is fill and bake.
Little creamed onions reheat just fine. I usually throw them together around 2 p.m., while the turkey is roasting. And though foodies will cringe when I say this, the frozen onions in the Birdseye bag taste just fine when first browned with a little butter and sugar, and then drowned in turkey-stock béchamel.
Macaroni and cheese. It can sit in the refrigerator for hours, then be topped and baked whenever you have free oven space. It's also unusually forgiving about temperatures, so don't be afraid to bake it with the turkey.
Use those kitchen electrics. The best of all, of course, is to minimize the use of the oven and stove completely. Shift things to some less crowded clime:
Crock pot: Mashed potatoes. As a bonus, you get them out of the way early, with only a little last-minute mashing. You can make macaroni and cheese in the slow-cooker, if you are willing to use evaporated milk. (I am not.) Scalloped potatoes. Almost any soup. Mulled cider.
Electric pressure cooker: Some vegetables, particularly carrots. (Use a steamer, and white wine liberally laced with fresh ginger for your cooking liquid.)
Toaster oven: If you've got a good one, your pies and other desserts can be baked in a toaster oven, or reheated there. Scalloped corn or potatoes, squash or sweet potato casserole, macaroni and cheese, green bean casserole, or really anything ending in the word "casserole," will all do fine in your toaster oven. A loaf of bread can easily be heated up there, wrapped in foil and left at 350 for half an hour. Stuffing, which is not exactly a finicky dish, is also an excellent candidate.
Warming tray: Hot canapés. Cheese en croute. Rolls baked earlier in the day. Hot dip.
Microwave: If you are desperate for time and space, you can buy those steam-in-bag green beans, toss with butter, the juice of half a lemon, and a little grated lemon zest. Salt and pepper, and you have instant holiday green vegetables. Let's be frank: No one's all that excited about the vegetables anyway. Nothing else should be cooked in the microwave, but don't be afraid to reheat your root vegetables and gourds there.
See! Now the stove will be practically deserted at Zero Hour, leaving plenty of space and time for you to sweat over the gravy. Or even step out of the kitchen for a moment to enjoy your family time. And wouldn't that be novel?
To contact the author of this story:
Megan McArdle at mmcardle3@bloomberg.net
To contact the editor responsible for this story:
Philip Gray at philipgray@bloomberg.net
Before it's here, it's on the Bloomberg Terminal.
LEARN MORE