view
It Pays Too Well to Run a Russian State Company
Huge salaries reflect the companies' bloated role in the economy.
by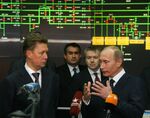 The biggest problem facing the Russian economy today isn't its excessive dependence on oil and gas exports, or the Western sanctions imposed in response to aggression in Ukraine. It is instead the state-owned sector's dominance, which stifles private initiative and promotes inefficiency.
On Thursday, the Russian edition of Forbes magazine published its annual ranking of the country's highest-earning chief executives, based on their 2014 compensation. The top three people on the list run state-controlled companies: Gazprom, VTB Bank and Rosneft. Six of the top 10 are state sector managers. That roughly matches the weight of state-owned enterprises in the economy.  In 2013, the Organization for Economic Cooperation and Development said the state-owned sector accounted for 50 percent of economic output and that it was growing. State-owned banks control about 60 percent of the banking system's assets.
According to Forbes Russia, Gazprom's chief executive, Alexei Miller, made $27 million last year, compared with $25 million in 2013 -- a rare increase, given that managers are paid in rubles and the currency experienced a sharp devaluation last year; VTB's Andrei Kostin had to make do with $21 million, down from $37 million, and Igor Sechin of Rosneft made $17.5 million.
If these numbers are correct (more on that later), both Miller and Sechin made more in 2014 than BP chief executive Bob Dudley, who received $12.74 million. Miller's big payout might appear justified -- Gazprom outperformed the MSCI World Energy Sector Index last year -- but not for Sechin, whose company underperformed the benchmark by about as much as BP did.
It's difficult to make such comparisons, though, because the compensation of Russian state-controlled company managers isn't transparent, even though these companies are publicly traded. The Forbes numbers are estimates constructed from the companies' disclosures of total compensation payments as well as the magazine's own reporting. Last year, the government ordered state-controlled companies to publish top executives' compensation on their websites. Some of the managers objected, and Vladimir Yakunin, who then headed the Russian railroad monopoly, even threatened to resign if forced to comply. He was fired this year, anyway, but President Vladimir Putin allowed the companies to withhold the information, ostensibly because they operate in the same competitive environment as private companies.
The fuzziness surrounding remuneration accounts for Sechin's absence from the Forbes list last year. The magazine decided not to put a number on his income because Sechin was suing it over the previous year's estimate of $50 million. Sechin, a close associate of Putin's and a former deputy prime minister, won the case because Forbes wouldn't reveal its sources. The Rosneft chief didn't have to reveal his pay to win -- he just argued that it was a precise number, not to be estimated.
This time around, Sechin won't sue. "We don't confirm the number," his press secretary, Mikhail Leontyev, said. 
In any case, the German publishing house Axel Springer, which owned Forbes Russia, was forced to sell it in September to a Russian owner to comply with new legislation than bans foreign entities from owning more than 20 percent of Russian media. The new owner, Alexander Fedotov, said in an interview that he saw the magazine as "too politicized."  He added: "I sincerely believe that people who read Forbes are not interested in officials' salaries." 
It appears that, like many Russians, Fedotov sees Sechin and other Putin associates who run state companies as bureaucrats rather than managers. That's because their companies are run as extensions of the government, and used as geopolitical tools and proxies for the state when big social, cultural or sports projects need to be funded. They are huge slush funds for Putin and those close to him.
The companies are huge, but not particularly successful as businesses. Gazprom's earnings per share have been dropping for three consecutive years; it trades at a smaller ratio to earnings than any of its non-Russian peers, according to data compiled by Bloomberg. So does Rosneft. VTB lost money last year despite state banks' privileged role in the Russian banking system. 
Even so, they are desirable employers for Russian graduates. According to a survey of students at Russia's top universities conducted this year, Gazprom is where they would most want to work, well ahead of Google and Apple: 37 percent of the more than 9,000 respondents said they wanted to work there. Rosneft is sixth on the list, immediately ahead of Unilever and McKinsey. Of the 11 Russian companies in the top 50, seven are state-controlled. Only 7 percent of students want to work for startups.
There's nothing much Russia can do about falling commodity prices, and even if Putin's cooperation with the West in fighting Islamic States results in the lifting of sanctions, the economy won't get much of a boost. But the dominance of inefficient state companies run by political appointees on huge salaries is not a given -- the system can and should be dismantled to create a level playing field for private business. The government-controlled behemoths won't pull the country out of recession -- all they can do is perpetuate a class of state managers that graduates want to join because they see how well these people are doing as their country quickly grows poorer.
To contact the author of this story:
Leonid Bershidsky at lbershidsky@bloomberg.net
To contact the editor responsible for this story:
Max Berley at mberley@bloomberg.net
Before it's here, it's on the Bloomberg Terminal.
LEARN MORE