Editorial Board
Recession Is No Reason for Japan to Panic
Most data suggest the economy is still moving in the right direction.
by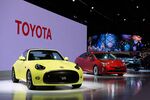 News that Japan has again fallen into recession gives fresh ammunition to skeptics of Abenomics, Prime Minister Shinzo Abe's economic revival program. Their doubt is justifiable, but there's still no reason for Japan to panic or radically change course. 
For one thing, recessions simply don't mean the same thing in Japan as they do most everywhere else. The country has suffered seven of them in the past 20 years -- two since Abe took office in late 2012. Given Japan's declining population, its trend growth rate is at best 0.5 percent, so even downturns as slight as last quarter's 0.8 percent decline can tip the economy into negative territory. Quarterly figures, in any case, can fluctuate widely. Japan's year-on-year nominal gross domestic product growth is the highest it's been in more than 20 years. 
At the same time, big Japanese exporters keep building up huge profits on the back of a weakened yen. Toyota earned a record $6.7 billion last quarter, more than GM and Ford combined. Several companies, including Toyota, are returning some of that money to shareholders through buybacks and dividends. Investors remain optimistic: Since September, Japan's Nikkei 225 has been the fourth-best performer among 93 bourses tracked by Bloomberg. 
If other gains from Abenomics have been modest, they're at least trending in the right direction. Unemployment is at an 18-year low, even as labor participation rates -- especially among women -- rise. While too many workers are still being shuffled into temporary jobs with limited prospects, the number of full-time positions created has started to tick upward. Wages are rising modestly. Property has picked up, even beyond the heart of Tokyo. And if core inflation remains stubbornly resistant to the Bank of Japan's massive quantitative-easing campaign, other measures such as the University of Tokyo's daily price index show at least some retail prices rising. 
The most worrying statistic in the recent data is the decline in corporate spending: Companies are running down their inventories and holding off on investing in new factories and equipment. This shouldn't be entirely surprising, though. The global outlook remains cloudy, in no small measure because of the slowdown in China, Japan's largest trading partner. And even under the best of circumstances, Japan's demographics guarantee that its domestic market will steadily shrink. In surveys, big companies are more bullish about how much they plan to invest -- which may mean they're just waiting to rebuild inventories. 
Even if China's slump hadn't provided an unexpected headwind, efforts to revive Japan were always going to take longer than many observers acknowledged. Difficult structural reforms are under way -- to crack open the energy, pharmaceutical and agriculture sectors, for instance; to slash tariffs under the Trans-Pacific Partnership trade pact; and to unwind the web of cross-shareholdings that's stifled much of Japan Inc. -- but they can't be expected to yield benefits immediately. 
Abe is reportedly considering new measures to encourage companies to raise wages and capital expenditures, perhaps including public investment and tax incentives. Even more welcome would be a renewed push to tackle reforms that are too often considered off-limits: opening Japan wider to immigration, especially for workers with needed skills, for example, or loosening labor regulations to spur more full-time hiring. Abenomics isn't dead. But neither is Abe's job anywhere near finished.
--Editors: Nisid Hajari, Mary Duenwald.
To contact the senior editor responsible for Bloomberg View's editorials: David Shipley at davidshipley@bloomberg.net .
Before it's here, it's on the Bloomberg Terminal.
LEARN MORE