Editorial Board
Putin's Deal for Ukraine Isn't Enough
Why should Ukraine pay $3 billion back to the country that destabilized it?
by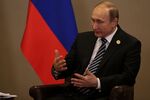 Russian President Vladimir Putin has suggested that his country is willing to reconsider its stance and give Ukraine a break on a $3 billion bond that comes due in December. The West should see Putin's offer and raise him: Russia should do more to ease a crisis of its own making.
For much of this year, Ukraine has been struggling to get the debt relief required to nurse its war-torn economy back to health -- and meet the terms of a $40 billion bailout package led by the International Monetary Fund. The government has completed a deal with bondholders that provides some of what it needs: A four-year payment extension, together with a 20 percent principal reduction.
Notoriously absent from the bargain was Russia, which in late 2013 bought a $3 billion bond from Ukraine to support then-President Viktor Yanukovych. The money was widely recognized as a payoff for Yanukovych's rejection of an association agreement with the European Union -- a move that sparked the rebellion that ultimately swept him from power.
Part of Russia's argument for full repayment was that, as a sovereign creditor and IMF member, it had the authority to halt the fund's lending to Ukraine. With the ability to reignite armed conflict and withhold natural gas supplies, it also had some powerful unspoken military and economic arguments.
Now the situation has changed. The IMF has signaled that it might be willing to lend to Ukraine even if the government doesn't pay Russia in December. And Putin, facing a potentially long recession, is interested in getting Western sanctions eased when they come up for renewal early next year. He has offered to spread the $3 billion payment out over the next few years -- a restructuring, but less severe than what private bondholders have accepted.
The IMF should take this opportunity to demand that Russia accept a bigger haircut: This debt, after all, was taken on by a corrupt leader against the interests of the Ukrainian people. The more Ukraine pays, the more IMF money will go straight back out to a country that -- by annexing Crimea and supporting a pro-Russian rebellion -- played the central role in undermining its economy. At the very least, Russia should get the same treatment as private creditors.
Ukraine faces many obstacles to recovery, including endemic corruption and a festering military conflict. The least the West can do is ensure that an unbearable debt burden isn't one of them. A Russian writedown would help.
--Editors: Mark Whitehouse, Michael Newman.
To contact the senior editor responsible for Bloomberg View's editorials: David Shipley at davidshipley@bloomberg.net.
Before it's here, it's on the Bloomberg Terminal.
LEARN MORE