view
Wall Street Opens Its War Chest
Spending on lobbyists suggests it's girding for a battle over financial regulation.
by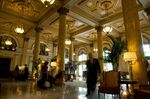 This December could be Wall Street's best chance in a while to roll back financial regulation. Judging from the amount of money the industry has been spending on lobbying, it's preparing for battle.
The catalyst is a deadline that President Barack Obama and Congress must meet: If they don't agree on a $1.1 trillion spending bill by Dec. 11, the government may have to shut down. This provides lawmakers with an opportunity to tack riders onto the must-pass legislation, including some gifts to the financial industry that the White House has resisted.
On Wall Street's wish list: delaying a fiduciary rule designed to make sure brokers offer older folks unconflicted advice, and limiting regulators' power to subject large financial institutions to extra scrutiny.
Ahead of what could be a major showdown with financial-reform advocates such as Senator Elizabeth Warren, Wall Street's lobbying budget has increased sharply. Data compiled by Bloomberg Government show that five groups representing the financial industry, along with the six largest U.S. banks, spent $14.7 million in the third quarter of 2015. That represents their largest share of all industries' spending since at least mid-2008. Here's how that looks:

The previous peak in Wall Street spending came in the last quarter of 2014, when banks exploited a similar last-minute government spending bill to kill an important piece of the Dodd-Frank financial-reform legislation -- a rule that would have moved some of their derivatives business out of their federally insured depository subsidiaries (more on that here). 
To be sure, this is just one small part of the political picture. The spending data don't include contributions to campaigns or super-PACs, advocacy groups that can attract unlimited sums. And if a bank executive puts in a call to a pivotal lawmaker facing a tight reelection -- well, that's priceless.
Lobbying is not inherently evil. And some changes to financial regulation, particularly in the area of community banking, would make sense. Tacking Wall Street's wishes onto other legislation without proper examination or debate, though, is no way to go about it.
To contact the author of this story:
Mark Whitehouse at mwhitehouse1@bloomberg.net
To contact the editor responsible for this story:
Paula Dwyer at pdwyer11@bloomberg.net
Before it's here, it's on the Bloomberg Terminal.
LEARN MORE