National
Treatment Alone Won't Stop Heroin Epidemic
Politicians want to send drug users to rehab, not jail. If only it were that simple.
by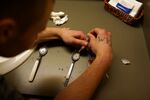 Democratic and Republican politicians seem to agree on one big issue: government policy needs to be reformed to offer alternatives to incarceration for drug offenders.
"We need to start treating people in this country, not jailing them," Republican presidential candidate Chris Christie told a town meeting in New Hampshire recently. The video of the New Jersey governor's remarks went viral.
In West Virginia, another state hard hit by heroin and painkiller overdoses, President Barack Obama said essentially the same thing in October.
"Rather than spending billions of dollars — taxpayer dollars — on long prison sentences for nonviolent drug offenders," the president said, "we could save money and get better outcomes by getting treatment to those who need it."
He called on federal agencies, public-health organizations and pharmaceutical chains to increase treatment programs for addicts, provide more training for clinicians who treat pain, and monitor prescribing and disposal of unused prescription narcotics, such as OxyContin, also called opioids. Instead of the traditional focus on abstinence, Obama emphasized the use of opioid substitution medications, which suppress withdrawal and craving, and naloxone, which reverses heroin and other opioid painkiller overdoses if administered quickly.   
As an addiction psychiatrist, I fully agree with the president and others that treatment is far preferable to jail for a drug-involved offender. Of course, the incarceration-to-treatment diversion isn't a new idea. As early as 1919, cities operated short-lived morphine maintenance clinics that were supported by local police departments to deal with heroin and morphine users.
But we know from experience that referral to treatment alone isn't enough.
Counseling, rehabilitation, opiate replacement medication -- these strategies on their own are less effective than politicians make it sound. Some of the most promising treatment and rehab models are found within the criminal justice system. Why? Because it allows for monitoring and accountability -- essential to the care of addicts because they tend to be ambivalent about quitting drugs, and drop out of treatment in high numbers. That usually leads to a relapse.
If the carrot-and-stick approaches are scrupulously applied, not every addict will even need formal treatment. Let me explain.
In 2000, Californians passed Proposition 36, which enabled first- and second-time nonviolent offenders convicted of simple heroin possession to receive probation rather than prison time if they participated in treatment. But the programs were largely toothless, and barely 20 percent of offenders completed the course.
"Providers commented that many clients did not take their treatment seriously," according to an evaluation of Proposition 36 programs conducted by the University of California at Los Angeles. "Clients recycled through treatment many times and believed that they could do so without consequences."
The problem was the programs lacked leverage. Far more effective are drug courts. The first such court opened in Miami in 1989 to deal with prison crowding caused by the crack epidemic of the 1980s. According to the National Association for Drug Court Professions, there are now almost 3,000 such courts. Most are run out of local jurisdictions and can be financed by federal and state and county funds. 
Drug courts typically offer offenders dismissal of charges for completion of a 12-18 month treatment program. But, more critically, the courts impose swift, certain and fair consequences when participants fail drug tests or commit other infractions, such as missing meetings with probation officers or skipping work-training classes. The sanctions can escalate, depending on the number of infractions committed, ranging from mild, such as a warning from the judge, to community service and more intensive probation supervision and flash incarceration (temporary stays of 1-10 days).
These courts are more effective than conventional corrections options, such as mandatory jail time or traditional probation. (Under standard probation, an offender might fail many drug tests and miss appointments, for example, before corrections authorities react. When they do react, however, it might be in a draconian manner.) The offenders whose cases are handled by drug courts are about one-half to one-third less likely to return to crime or drug use than those who are monitored under typical probationary conditions.
Two-thirds of drug-court participants graduate drug-free at 18 months whereas attrition from standard treatment programs ranges from 40 percent to 60 percent within days or weeks of enrollment.  
Plausibly, outcomes would have been even better if judges were more receptive to drug-replacement therapies. In addition to methadone, there is also Suboxone, which is prescribed by specially licensed doctors to heroin and painkiller addicts. (Methadone generally works better for long-term hard-core addicts; young users can be detoxed with Suboxone or maintained on it for months, even years.)  
To some drug-court judges, these medications seem like "substituting one addiction with another" because they are intoxicating at excess doses.  (Methadone poses an overdose threat, as well.) But they can also be enormously beneficial in suppressing drug craving when taken properly.
This year, the Substance Abuse and Mental Health Administration said it would withhold federal funding from drug courts that won't allow participants to remain on an opiate replacement. There is still room for improvement. A 2013 study published by the Journal of Substance Abuse Treatment found that fewer than half of drug courts surveyed offered opioid addicts substitution therapy.   
Drug courts require treatment. But a program in Hawaii that treats methamphetamine addicts shows how sanctions such as flash incarceration and incentives alone can work, without the need for outpatient care or expensive residential treatment. (Methamphetamines, in contrast to heroin, are stimulants, like cocaine.)  
Project HOPE -- Hawaii Opportunity Probation and Enforcement -- was started in 2004 by a state circuit judge, Steven Alm. It offers treatment only to those addicts who don't quit using after either being threatened with penalties or offered incentives to quit using, or both. The savings from not having to pay for treating all comers means that those who need the intense intervention get more supervision and high-quality care.
A randomized study conducted by Angela Hawken of Pepperdine University and Mark Kleiman, then of UCLA, found that after one year the Hawaii program's clients were 55 percent less likely to be arrested for a new crime compared with those on traditional probation, and 72 percent less likely to use drugs. They were also 61 percent less likely to skip appointments with their supervisory officer, and 53 percent less likely to have their probation revoked.
This and forthcoming data show that progress can be achieved with sanctions and threats alone for the vast majority of participants.  Hawken and Kleiman call this "behavioral triage."
Models marked by rapid responses to someone's behavior, with and without accompanying formal therapy, should provide important guidance in the years ahead, as the pendulum swings further in favor of treatment of all drug users. Programs modeled on the Hawaii experiment are already having success in Washington State, Alaska, Texas, South Dakota and other places.
Building on the promise of the "swift, certain and fair" approach to dealing with drug offenders is the realistic, most promising path to follow.
This column does not necessarily reflect the opinion of the editorial board or Bloomberg LP and its owners.
To contact the author of this story:
Sally L Satel at ssatel@aei.org
To contact the editor responsible for this story:
Katy Roberts at kroberts29@bloomberg.net
Before it's here, it's on the Bloomberg Terminal.
LEARN MORE