Immigration
Aid Can Curb Migration. The Question Is How.
Rich countries should discourage refugees by helping them, not by stopping them.
by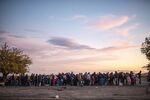 Developed countries spend $135 billion a year on foreign aid, on everything from building schools and distributing bed nets to training people how to organize a political party. As Europe's migration crisis deepens, an uncomfortable question gets harder to ignore: Should rich countries use more of that money to keep people away?