Politics
Where Has All the Power Gone?
College protesters and the Tea Party are raging against the same machine.
by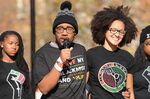 The kids feel powerless. At Yale University, they suffer racial slights, real and imagined, and learn a lesson reliably taught to strivers of every generation: You can reach the heights without ever finding the little door that leads to the center of things.