Russia
Russia Can't Keep Relying on Oil
The budget is built on unfounded faith.
by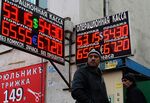 Russia's economy appears to have bottomed out. Third-quarter data, released Thursday, showed it was finding a "new normal" at the current price of oil. Any stabilization is precarious, though: Oil may need to appreciate a little to prevent another downturn, and President Vladimir Putin's much-ballyhooed social programs face the ax if the price goes down any further.
For July though September, gross domestic product fell 4.1 percent compared with a year earlier, beating analysts' expectations of a 4.3 percent decline, and a vast improvement over the 4.6 percent drop in the previous quarter. The number looks particularly good when coupled with the 0.1 percent rise in industrial production after two quarters of decline. If the trend persists  in the next two quarters, Russia could show growth in the second quarter of 2016, and Putin and his lieutenants will report that the country is out of trouble despite the continuous wars since mid-2014 and the Western economic sanctions.
But the latest data are somewhat deceiving: The tiny improvement was fueled by increases in energy production, and the domestic market still hasn't found its bottom. The 10.4 percent year-on-year drop in retail sales for September was the sharpest in 2015. They declined 9.5 percent for the third quarter. Investment, too, has continued to fall: It's down 7 percent in the third quarter, the biggest drop since 2010.
This suggests the Russian economy isn't getting a boost from import replacement, as it did after the 1998 financial meltdown, that Putin is counting on and has even attempted to accelerate by imposing an embargo on Western food. The sharp devaluation of the ruble has merely forced Russians to spend less even as prices increased by about 16 percent, and private businesses haven't begun investing in local production, perhaps because of oppressive overregulation.
The government sees no sources of growth other than hydrocarbons, so it's working on the first one-year budget since 2008. In more stable times, Russia had a three-year budgeting process. This one is based on about the same revenue and spending numbers as  in 2015, but the Finance Ministry has warned that about 1 trillion rubles ($15  billion) of 13.7  trillion rubles in planned revenue may be iffy.
The potential shortfall is oil-related. The budget is based on $50 per barrel of Brent oil, the North Sea mix that is the European benchmark. Given that the free-floating ruble follows the Brent price in almost-perfect lockstep, if the price falls, the ruble amounts in the budget should remain stable. Russians will be able to afford even fewer imported goods and less foreign travel, but Putin doesn't care too much about that. The trouble is that Russia is not selling Brent oil; it exports a different mix, Urals, which cost about as much as Brent through most of 2015 but now is almost $4 per barrel less. The reason could be increased competition from Saudi Arabia, which has started supplying oil to Russia's traditional markets such as Poland and Sweden. 
Next year, the differential could widen even more if Iranian oil hits the European markets. 
A lower price of Urals affects Russia's import revenue but not the ruble rate, since Urals is not a benchmark for the currency markets. That's why an expanding differential could cost the Russian budget extra pain.
For now, the draft budget, which the parliament could take up starting Friday, projects a 2.8 percent deficit. To keep it that low, the government plans cost-of-living increases to pensions that only would be about one-third of the inflation rate, and there will be no increase for the 15 million Russians who draw their retirement but continue to work. 
Health spending would be cut by 8 percent and education by 8.5  percent. The Russian regions would lose part of their federal subsidies.
At the same time, Putin's government has no plans to cut defense spending, which will eat up 19 percent of the budget, or general government outlay. "This is not a survival budget but a budget of power preservation," the business daily Vedomosti wrote in a recent editorial. 
As the government waits for oil prices to go up -- an uncertain prospect according to the International Energy Agency's latest World Energy Outlook -- it's also betting the patient Russian people will put up with shrinking investment in human capital. If they grumble, stable security, defense and government spending should discourage revolt. That's probably a less risky bet than the one on oil, at least short-term, but it's hardly a sustainable policy.
To contact the author of this story:
Leonid Bershidsky at lbershidsky@bloomberg.net
To contact the editor responsible for this story:
Max Berley at mberley@bloomberg.net
Before it's here, it's on the Bloomberg Terminal.
LEARN MORE