view
In Fantasy Sports Fight, Bet on New York
The attorney general's case is more dangerous than other states' or Congress.
by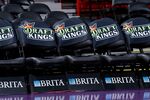 When New York attorney general Eric Schneiderman issued cease-and-desist orders to DraftKings and FanDuel Tuesday afternoon, demanding the sites stop accepting bets from New Yorkers and characterizing daily fantasy as illegal gambling under state law, it wasn't just a repeat of what happened in Arizona, Nevada and elsewhere. It is a far bigger legal challenge to daily fantasy sports, and it's all about location, location, location.
Schneiderman's decision came on the heels of U.S. Attorney for the Southern District of New York Preet Bharara subpoenaing DraftKings regarding an employee suspected of using inside information to win $350,000 on FanDuel. In addition, the House Energy and Commerce Committee is deciding whether to review the legal status of daily fantasy sites, with the National Football League reportedly contacting members of Congress in an effort to make sure that doesn't happen.
Federally, these sites rely on a loophole in the Unlawful Internet Gambling Enforcement Act, a poorly worded piece of legislation that established the legality of online fantasy sports by defining them as a game of skill, not chance. The act was written in 2006, before daily fantasy became popular, and needs to be clarified against a backdrop of daily betting that would seem to involve much more chance than a season-long contest.
The key to Schneiderman's case, and its potential to upend the industry, is in the state in which he holds office. On the legal side, New York has a much lower threshold for what constitutes illegal gambling than federal laws and many state regulations, which require the majority of the activity to be based on luck. Under New York law, gaming is an illegal "contest of chance" if "the outcome depends in a material degree upon an element of chance, notwithstanding that skill of the contestants may also be a factor therein." So while daily fantasy executives have been touting their games as predominantly skill-based, it seems Schneiderman just has to demonstrate that chance plays a "material" role in the contests.
That is a pretty low bar, according to Daniel Wallach, a sports and gaming attorney. "These are not chess pieces that you can control," he said. "In fantasy sports, once the lineups are set, your role concludes." Over the course of a season, a player's performance is likely to even out and meet expectations, but daily fantasy increases the likelihood of outliers affecting the pool.
New York is also significant for its financial role in the industry. Of course, there's sheer population: According to DraftKings, 500,000 of its users are based in the state, while FanDuel says 600,000 New Yorkers comprise 10 percent of its users.
Moreover, a good chunk of daily fantasy sites' investors and partners reside in New York -- namely, the major sports leagues. All four major pro sports leagues are headquartered in Manhattan, and each has some form of multi-year sponsorship deal with either DraftKings or FanDuel. That sets up an interesting spectacle if, as Wallach predicts, team and league executives get subpoenaed to testify as to their individual understanding of the legality of daily fantasy. (The last time Roger Goodell had to explain the league's views on fantasy and gambling in court, it didn't go so well.)
Additionally, several New York-based teams have individual deals with the sites: Madison Square Garden, home of the Knicks, Rangers and WNBA's Liberty, has a marketing partnership with DraftKings that includes on-court and on-ice signage, a fan lounge, and the sponsorship of the Liberty's jerseys. DraftKings also has deals with the Giants and Yankees, while the Nets and Jets have partnered with FanDuel. According to ESPN's Darren Rovell, an analyst who covers MSG estimated the company would lose between $5 million and $20 million in revenue if it were forced to give up its deal.
Perhaps most significantly, New York is also home to the banks and payment processors that facilitate transactions on daily fantasy sites. These companies could evaluate their involvement in daily fantasy in relation to their overall business and deem a state and possibly future federal inquiry simply not worth it. That risk calculus also involves much higher government oversight than the curiously unregulated -- I mean, "self-regulated" -- world of daily fantasy sites. The most direct way for regulators to target daily fantasy might be to go for the throat in these financial institutions. Online gaming reporter Chris Grove is already noting that at least one payment processing partner, Vantiv, has sent notice to one of the sites "to immediately stop accepting players from New York," and expects others to follow.
Oddly, Schneiderman seems to undercut his own argument against daily fantasy in his cease-and-desist letter. In one paragraph he's distinguishing daily fantasy from traditional fantasy, arguing that the former is much more a game of chance. In the next paragraph, he's casting doubt on FanDuel ads that promote daily fantasy as a lottery that anyone who plays can win: "In practice, [daily fantasy sports] is far closer to poker in this respect: a small number of professional gamblers profit at the expense of casual players."
This falls in line with Schneiderman's reputation for consumer protection, and his insistence that daily fantasy is a public health concern for New York State. But it also sounds like an unwitting admission that the average, unskilled player can't win at daily fantasy. 
Some might see these contradictory arguments as a marker of the murky waters of gambling legality, the seemingly arbitrary delineation of what type of sports betting is legal and where. I'm on the record in favor of legalizing, and highly regulating, all sports betting. But until then, it's hard to see why daily fantasy should continue to enjoy a loophole in a law written before its time. 
DraftKings and FanDuel have vowed to fight Schneiderman with everything they've got, but the ripples might already be in effect. Pennsylvania is reviewing whether to regulate daily fantasy, and the impact of the New York case could be felt on a federal level. According to Wallach, a violation of state law could trigger federal laws like the Illegal Gambling Business Act, which would result in criminal proceedings. That could mean major punitive measures, like hefty fines and forfeiture of assets. As Wallach noted, "With the range of penalties available to the federal government, the survival of these companies depends on prevailing in New York."
To contact the author of this story:
Kavitha A. Davidson at kdavidson19@bloomberg.net
To contact the editor responsible for this story:
Tobin Harshaw at tharshaw@bloomberg.net
Before it's here, it's on the Bloomberg Terminal.
LEARN MORE