Cities
San Francisco Needs to Get Denser. Can It?
If tech workers have nowhere to live, there goes the digital economy.
by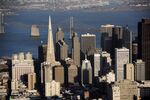 The San Francisco Bay area is doing pretty great, economically speaking. The region is the global epicenter of the digital economy with an impressive array of innovative, fast-growing corporations.