view
The Russian Art That Won't Be Sold at Christie's
An act of arson on a Moscow square can be more relevant than paintings sold at auction.
By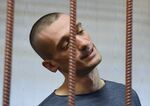 Just as Christie's was preparing for the auction in which a Modigliani nude sold for $170 million on Monday, a Russian artist poured gasoline over the door of a secret intelligence building on Moscow's Lubyanka square and set it on fire. This was the beginning of a special kind of performance art that now continues with his arrest and is unlikely ever to sell for anything.
Pyotr Pavlensky, a 31-year-old St. Petersburg native, studied to be a painter and designer, but wasn't interested in selling pictures that might be pretty to look at on an office wall. He preferred the kind of art that made people avert their eyes, more radical than the masochistic experiments of Marina Abramovic, more shocking than traditional political action could ever be.
In 2012, Pavlensky stitched his own mouth shut in protest against the persecution of punk group Pussy Riot, which had loudly "prayed" in Moscow's main cathedral for the Mother of God to chase out President Vladimir Putin. In 2013, he lay naked in a cocoon of barbed wire in front of the St. Petersburg city legislature. That same year, he nailed his scrotum to the cobbled pavement on Red Square. In 2014, he climbed onto the wall of a Moscow psychiatric hospital where criminal suspects are tested for insanity; naked again, he sliced off part of his ear with a knife before being detained -- the usual ending for his performances.
That particular arrest provided material for Pavlensky to add to one of his previous performances, in which he had burned a line of tires on a St. Petersburg bridge to tell the Russian authorities that Ukraine's "Revolution of Dignity" could someday repeat itself in Russia. He published excerpts of his recorded conversations with police investigators:
INVESTIGATOR: I understand this is art and I have nothing against art. And neither does our state. This is not the 80s. And not the Soviet Union. But you must draw a line between art and breaking the law.
PAVLENSKY: There's no such line, really. Breaking the law is just rhetoric in which people are dressing up art.
INVESTIGATOR: Imagine, here comes a man and says: This is art and it requires sacrifice. God forbid someone might fall victim to such art.
PAVLENSKY: I understand what you're saying, but we must stick to the facts. In all the performances I held, there were no victims, apart from myself, if this word is applicable at all.
The political symbolism of Pavlensky's actions was always straightforward: It's useless to try to hem in freedom, especially when the individual is willing to endure pain for its sake. His simple statements always trumped the obvious criticism; sure, self-mutilation isn't art, but when it sends a sharp, minimalist message, it can be.
Monday night's fire at Lubyanka was different and harder to understand: Where's the art in burning down a door, no matter whom it belongs to? Even some of Putin's opponents -- such as the commentator Konstantin von Eggert -- don't get it. In a Facebook debate with artist Dmitry Vrubel, Eggert wrote:
Arson is a crime according to the law. The country's problem is that it doesn't have moral leaders. Against that background, Pavlensky's performance looks like a moral challenge, though the authorities of course favor this particular kind of challenge because it's not a challenge, really, and it won't ignite anyone. The opposition's problem is that ordinary people -- with the authorities' help, certainly -- associate it with Pavlensky's scrotum nailed to the pavement and with wild dancing in churches. Compare that with Martin Luther King, [Lech] Walesa and [Andrei] Sakharov.
Then again, none of those three saw themselves as artists. Pavlensky's intention with his Lubyanka stunt became clearer when he appeared in court on Tuesday, charged with "vandalism motivated by political hatred." He told the judge that while hatred of the FSB was a valid motive, he wanted to be tried for terrorism, because that was the charge faced by the Crimean pro-Ukrainian activists, filmmaker Oleg Sentsov and Alexander Kolchenko. The two men were arrested for burning down the door to the Crimea office of the pro-Putin United Russia party. In August, a Russian court sentenced Sentsov to 20 years in a prison camp and Kolchenko to 10 years.
"Within the logic of your law-enforcement system, a burning door means terrorism," Pavlensky said.
He won't be tried for terrorism, of course, which is part of his message this time. He's risking his liberty -- the maximum sentence he faces is three years in prison -- to show that Russian justice is arbitrary. On the other hand, the authorities are also eager to prove a point, which is that their opponents are no more than vandals and petty hooligans. The sentence is likely to be mild: After all, Pavlensky only destroyed about $1,000 worth of property, according to an FSB estimate.
Both of these statements, Pavlensky's and the court's, combine into another simple, powerful story about the country Russia has become, and that is what distinguishes art from political activism. His art is in many ways more relevant than the paintings to be bought at Christie's for tens of millions, only to be closeted by their investor-owners; seen by nobody, and influencing nobody.
The story told by Pavlensky is about the pain and futility of dissent under a regime that has turned both propaganda and repression into art forms of their own. The emaciated Pavlensky, with his burning eyes and many scars, is no moral authority. He's just a little guy who is fearless enough to coolly figure out at what time he would be able to approach the intimidating Lubyanka building (4:30 a.m.), and then to stand calmly with his gas can in hand as a cop came running to grab him.
Pavlensky isn't telling his audience that they can do it, too. He is encouraging some of them to feel a pang of guilt when they realize they lack the courage to follow him in challenging a system they despise.
To contact the author of this story:
Leonid Bershidsky at lbershidsky@bloomberg.net
To contact the editor responsible for this story:
Marc Champion at mchampion7@bloomberg.net
Before it's here, it's on the Bloomberg Terminal.
LEARN MORE