Politics
Austerity Works in Britain, If It's Fair
Conservatives pushing for small government risk being seen as callous.
by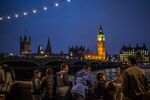 Britain's Conservative Party won a stunning election victory in May and saw its Labour opposition self-immolate. So why does the government now seem to be so often on the defensive?
Not only has Chancellor of the Exchequer George Osborne recently suffered a revolt against his plans for welfare cuts to help reach a budget surplus by 2020, but doctors in the National Health Service are currently voting on whether to go on their first ever strike. Meanwhile, the U.K.'s police chiefs are telling all who will listen about the dire impact on security that the cuts they are being asked to make will have.
In a sense, this is still about austerity, the debate that was supposedly settled at the ballot box a few months ago. The Conservatives had since 2010 delivered budget cuts together with job creation and, eventually, growth. They offered more of the same and they won. But Britons are starting to feel the pendulum has swung too far in the government's effort to shrink the state. In victory, the Conservatives risk appearing unchecked by any effective political opposition, ideologically motivated to reduce the size of the state and, for want of better words, too Etonian -- over-privileged and out of touch with the pain of the poor. 
The biggest blow came when the House of Lords late last month rejected Osborne's plan to cut 4.4 billion pounds from payments under the Working Tax Credit program, a government subsidy to low-paid workers. Osborne said he'd listen, but was "determined to deliver that lower welfare economy the British people want to see."
That's true up to a point, but Osborne may already have reached it; five years of budget cuts have taken 1 million people off the public payroll. The public sector now accounts for 17.2 percent of the U.K. workforce, the lowest in half a century, and according to the Institute for Fiscal Studies, a think tank, that proportion will fall to 15 percent under current policies.

Osborne has reduced government spending to 41 percent of gross domestic product from 45 percent in 2010, when the Conservatives came to power. That's now a little below the U.K. average over the last 50 years and, given the state of the nation's finances after the financial crisis, the reduction was probably necessary. The government plans to go further.
In his post-election budget, Osborne set out a path to reduce government spending to 36.3 percent of GDP by 2020, at which point the budget will be in surplus. He provided political cover for the welfare cuts needed, by boosting the minimum wage and income tax thresholds. It was a political triumph for Osborne on the day, but then people did the math.
According to the Resolution Foundation, a think tank, the net impact on the country's poorest families of getting less tax credit and a higher minimum wage would be a loss of more than £1,000 each per year. Penalizing the working poor in this way looks unfair, even to many of those who agree in general with austerity policies. 
Osborne's problem is one of distribution. Cutting the tax credit to raise tax thresholds and the minimum wage takes money from a smaller number of people and redistributes it more widely. You can argue that the tax credit is itself a distortion whose cost has spiraled out of control, yet by cutting the benefit while simultaneously reducing inheritance tax for the better off, it looks unfair.
Taking on junior doctors is also a risk to the government. Health Minister Jeremy Hunt wants to do something good for patients, by expanding regular hospital services through weekends, while (he says) reducing the dangerously long overtime hours that many junior doctors already work at or beyond the legal 91 hours per week limit to keep the over-stretched NHS running.
The British Medical Association suspects, no matter what assurances Hunt gives, that doctors will be forced to work even longer hours for less pay. As one doctor commented online:
The inevitable result of this will be a rapid and dynamic reformatting of any departmental rota to take advantage of the fact that any trainee can be placed onto a more antisocial shift pattern for at the very worst, the same cost to the trust. 
If these were overpaid drivers on London's subway system threatening to strike, few would sympathize. But people know that junior doctors, the worker bees of the hallowed National Health Service, are among the worst-paid medics in the developed world. The starting salary for a hospital doctor in the U.K. is just 22,636 pounds ($34,100). Starting pay for a driver on London's subway system is 49,673 pounds. A 2011 Harvard study found the U.K. to be "The one major country that appears to be paying its physicians too little."
And then there are the police. The Chief of London's Metropolitan Police Force has been saying that, as a result of budget cuts Osborne is expected to demand over the next four years, he will have to cut staffing back to levels last seen in the 1970s and might not have the resources to respond to a terrorist attack. The chief of police in Bedfordshire county, just outside London, said last week he planned to run a zero-tolerance program for speeding on highways, to raise revenue: 
If it is a question of reducing the force by 25 officers or introducing this scheme, then I am going to go for this every time. We have lobbied the Home Office for fair funding but they have not listened so I am forced to come up with new ways of raising revenue.
Of course, government bureaucracies always cry Armageddon when asked to make cuts. And at 88 percent of gross domestic product, the U.K.'s debt pile still needs to be reduced. Increasingly, however, the question is how and at whose expense. To go on focusing relentlessly on public sector cuts to reach that 36 percent figure will raise further questions of fairness.
Osborne probably won't be able to avoid trouble by choosing his targets for cuts more carefully. His plans will bring a fundamentally European state, with aspirations to provide free universal healthcare and strong social security, to funding levels similar to those in the U.S., where the state is expected to do less. U.S. and U.K. attitudes to tax and spending are simply different, as this 2014 YouGov poll suggests:

The last time U.K. spending levels fell close to 36 percent, it helped to win Labour, under former Prime Minister Tony Blair, a succession of election victories. The government is safe for now. But for the Conservatives, no matter how weak Labour may be today, Osborne's small state is a high risk project.
This column does not necessarily reflect the opinion of the editorial board or Bloomberg LP and its owners.