China
What 'Hot Deal' Means on Singles Day in China
A huge online shopping event brings a flood of junk and fakes. Even the junk can be fake.
by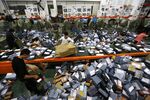 China's economy is struggling, and come Wednesday the country's lonely hearts will do their best to put it back on track.
It's Singles Day, when the country's bachelors and bachelorettes celebrate themselves with online retail therapy. Alibaba, which accounts for roughly 80 percent of all online sales in China, rung up $9.3 billion in sales on Singles Day 2014. By comparison, American retailers rang up a comparatively paltry $2 billion on Cyber Monday in 2014.
There's a problem. A report delivered to Chinese lawmakers on Nov. 2 claims that more than 40 percent of the goods purchased online in China are counterfeit or of poor quality. Or both. Earlier government reports found similar levels of fakery in the past. Forty percent comes to $269 billion of the $672 billion in retail e-commerce sales that China, the world's biggest e-commerce marketplace, is expected to generate in 2015.
As China develops from a manufacturer into a consumer-based economy, that's a lot of gross domestic product that the Chinese government should, but can't, give up easily. With some analysts claiming Chinese counterfeiting employs millions, it's an enterprise that's too big to shut down.
China's role as an industrialized counterfeiter isn't new. Before 2010, law-enforcement authorities were reporting that 70 percent of all counterfeit goods seized by global agencies originated in China. That's no accident. As the world's leading manufacturer, China hosts the supply chain for most leading consumer goods. Want to make a fake iPhone? You don't have to drive far to find someone making parts for the real thing.
In the late 1990s, right around the time China was becoming firmly established as the world's factory floor, it was also becoming its counterfeiting mall. In Shanghai, Beijing and other major cities, large "fake markets" selling everything from bogus Callaway golf clubs to bootlegged pornographic VHS tapes sprouted in prominent locations like shopping malls. Sellers flourished with the tolerance of the government; at Shanghai's legendary Xiangyang Market, police officers were often positioned at entrances.
The global economic crisis brought objections from the U.S. They didn't have much impact. According to a diplomatic cable sent from the U.S. Embassy in Beijing in April 2009 (revealed by Wikileaks), two members of China's Supreme Court told U.S. officials that they opposed shutting down counterfeiting operations. One of the judges, Yu Xiaobai, tells the delegation that "closing down a business and causing jobs to be lost is not the best solution in cases of infringement." The better course, he explained, would be to "allow the infringing enterprise to continue its operations so that it might pay the damages in the future."
The cable also details how China's Public Security Bureau, the chief law-enforcement agency, refused a March 2008 request from Apple to raid a factory manufacturing counterfeit Macbooks "because the raid threatened as many as 100 local jobs." Another national agency refused an Apple request to do something about a mall where counterfeits were sold because it "feared the action would drive away what little business still existed in the area."
Since then, China's counterfeiting industry has moved online. As recently as 2012, a mere two years before Alibaba held a record-setting IPO, the U.S. Trade Representative's office listed the company on its Notorious Markets list of companies and markets involved in piracy and counterfeiting. Alibaba was removed after promising to improve its enforcement, but its efforts have fallen short, at least in the eyes of the American Apparel & Footwear Association, which is asking that the company be relisted.
It has a case. Last September, Columbia Sportswear reported that 82 percent of its branded goods found on Alibaba's Taobao site were counterfeit. A brief search for any well-known foreign brand brings up hundreds or thousands of listings. There were 30,000 Gucci products priced at less than $50 on Taobao in early November, many obviously counterfeit. Alibaba claims it spends millions policing its site for fakes. But that policing is clearly selective.
The government isn't doing much better. Last week, regulators announced that they'll crack down on counterfeit Disney products. Their interest is compelling. Disney is opening its first mainland theme park next year, and the government – which is deeply invested in the project – would prefer to spare itself the embarrassment of fake Little Mermaids popping up all over Shanghai.
But the decision to crack down on inconvenient counterfeits only highlights the failure to proceed against the ones that aren't. It's a discrepancy that should worry anyone interested in seeing China evolve into an innovation economy capable of developing global brands of its own. So long as China accepts infringement as a jobs program, that evolution will be stunted, no matter how many billions of baubles are sold to Chinese bachelors on Singles Day.
To contact the author of this story:
Adam Minter at aminter@bloomberg.net
To contact the editor responsible for this story:
Jonathan Landman at jlandman4@bloomberg.net
Before it's here, it's on the Bloomberg Terminal.
LEARN MORE