view
Newspaper Companies Have a Funny Idea of 'Progress'
The plunge in ad revenue shows no signs of stopping.
by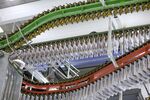 Does it just keep getting worse for newspapers until they die? Or is there hope, or at least a temporary respite, in sight?
The biggest publicly traded newspaper companies in the U.S. reported earnings during the past couple of weeks, and the tone on the earnings calls was moderately upbeat. Executives at McClatchy, Tribune Publishing, News Corp. and the New York Times all made multiple mentions of the "progress" their companies had made recently. Nobody at Gannett went quite that far -- understandable at a company where revenue dropped 4.5 percent from the same quarter a year before -- but Chief Executive Officer Robert J. Dickey did say that it had been "a very solid third quarter, our first since becoming a standalone public company in terms of both operating performance and cash flows."
What has made life so tough for newspaper companies has been an advertising collapse that began in 2007. In 2006, U.S. newspapers took in $49.3 billion in print and digital advertising revenue. In 2014 that was down to $19.9 billion. Here's what the advertising revenue trend has looked like lately at the five biggest publicly traded newspaper companies:

Gannett, News Corp. and Tribune Publishing were all spun off in the past couple of years from parent companies that decided they'd rather not be in the newspaper business anymore -- that's why their charts are incomplete. As for the New York Times, it seemed misleading to include results from when the Boston Globe was still part of the company.
The main message I take from the chart is that newspaper advertising is still falling for everybody, but national advertising is holding up better than local advertising. Revenue declines are still in the double digits at Gannett and McClatchy, which own newspapers in big and small cities across the U.S. At Tribune Publishing, which owns the Los Angeles Times, Chicago Tribune and several other papers, this year's numbers are skewed substantially upward by the recent acquisition of the San Diego Union-Tribune. Without that, the company said, ad revenue would have fallen 9.6 percent in the most recent quarter. McClatchy's recent numbers, meanwhile, are skewed slightly downward because the company sold off a few businesses. So the three generally face the same still-dire advertising predicament.
The picture's different, and the ad-revenue declines much smaller, at the New York Times, which is now just the New York Times and International New York Times, and News Corp., which owns the Wall Street Journal and major newspapers in Australia and the U.K. (it also owns several significant non-newspaper properties, such as book publisher HarperCollins, but newspapers still make up the majority of revenue). 
Then there's circulation revenue, which was long an afterthought in many newspapers' business plans but has become more important as ad revenue has declined.

McClatchy's big gains in 2012 and 2013 were the result of putting its newspapers behind digital paywalls during those years. All the other companies had already adopted paywalls before their lines show up on the chart. In general, while offering a welcome respite from falling advertising revenue, digital subscriptions don't appear to be deliver much growth after their initial rollout. And while the New York Times saw circulation revenue pass ad revenue in 2012, all the other companies are still quite a ways from crossing that threshold:

All in all, it still seems too early to declare that things have stopped getting worse in the newspaper business, especially the regional newspaper business. Gannett and Tribune are both betting that consolidation will improve margins, with Gannett buying the national Journal Media chain and Tribune bidding for bankrupt Freedom Communications, publisher of the Orange County Register. We'll have to wait and see if that actually works. And while there are digital-native national competitors ready to move in if the New York Times or News Corp. falter, the search for replacements for local newspapers goes on. They're being disrupted, but not by organizations that have any interest taking over their news-gathering role.
(Corrects eighth paragraph to indicate that New York Times circulation revenue exceeded ad revenue in 2012, not 2011.)
To contact the author of this story:
Justin Fox at justinfox@bloomberg.net
To contact the editor responsible for this story:
James Greiff at jgreiff@bloomberg.net
Before it's here, it's on the Bloomberg Terminal.
LEARN MORE