Editorial Board
Modi Needs to Think Again
Indian prime minister must urgently steer his government toward economic reform.
by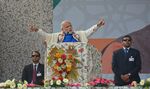 Voters in the state of Bihar just dealt Indian Prime Minister Narendra Modi a heavy blow. They awarded an alliance of opposition parties almost three-quarters of the seats in the state parliament, raising fresh doubts about a government that was already struggling. 
Modi has argued for the far-reaching economic reform India needs. The country could and should be growing faster, and the way to help it along is to roll back more of the government's suffocating interference. After his sweeping election victory last year, Modi was in a position to quickly bring radical change. He chose instead to take his time and move incrementally. Now his opportunity is all but lost.
Ahead of the election in Bihar, Modi chose not to renew a land-reform order, opposed by farmers, that would have made it easier for investors to acquire land. He also backed away from a national sales tax that opposition members of parliament resisted. But these concessions accomplished nothing. Modi's triumphant opponents only found themselves getting the upper hand.
If it isn't already too late, a change of tactics is called for. The prime minister ought to refocus the attention of his Bharatiya Janata Party on economic growth and living standards -- as it was focused before last year's electoral success. An appeal of this kind is capable of exciting voters again, if it's advanced with the urgency required to deliver tangible results.
Modi has also done too little to curb the sectarian tendencies that have obscured his party's economic message. He needs to quell the BJP's divisive instincts and voice concern for the rights of Muslims and other religious minorities. To be sure, Modi himself never resorts to extreme or inflammatory rhetoric, but he's slow to condemn allies who do.
By promoting economic reform and speaking up for a tolerant, modern, multifaith India, Modi could strengthen his own hand against an opportunistic opposition, which seems to be united only on the need to defeat the BJP.
Nobody ever said that governing India would be easy. But Modi is a politician of formidable gifts, capable of appealing to a broad swath of the electorate. The message from Bihar is that he needs to think again, and start using those gifts to greater effect.
--Editors: Clive Crook, Mary Duenwald
To contact the senior editor responsible for Bloomberg View's editorials: David Shipley at davidshipley@bloomberg.net .
Before it's here, it's on the Bloomberg Terminal.
LEARN MORE