Finance
Blame Real-Estate Lending. Then Rein It In.
Reducing debt and fighting inequality are the keys to global financial stability.
by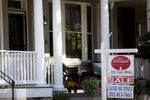 Left to themselves, banks and shadow banks are bound to create too much of the wrong sort of debt and leave economies facing severe debt overhangs. That raises the question: How can we prevent excessive credit creation?