Labor
Job Growth Goes Virtual
The pay is great, but is it a good for the country?
by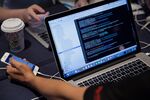 The U.S. economy added an impressive 271,000 jobs in October, as you've surely heard. The industry that led the way was professional and business services, with an increase of 78,000. That was an especially good month, but this sector has been leading the way for the entire recovery, adding 3.4 million jobs since March 2010.
The rise of professional and business services goes back much further than that, actually. Here's employment in the sector since 1980 compared with manufacturing, which it has overtaken as a leading source of good jobs with better-than-average pay:

What exactly are these professional and business services? A bit of a grab bag.
Legal services is a big piece, but it has barely contributed to the past few years' gains. There are actually fewer people working at law offices and other legal-services organizations now than there were in 2002. What's been growing instead are computer-systems design, management consulting, temporary-help services, business-support services and accounting and bookkeeping services. Some of these are high-status, high-pay fields, some aren't. Put them all together, though, and average hourly pay in professional and business services was $30.30 in October, compared with $25.20 in the private sector overall.
The establishment data used here classifies jobs by what business the employer is in, not what kind of work the employee does. 1 So the rise of professional and business services employment can be understood partly as a result of a restructuring of American corporations since the 1970s. Many things that used to be done in-house at manufacturers and other big corporations -- from taking out the trash to running the computer systems to devising corporate strategy -- have been outsourced to specialist providers. In the process, the professional and business services category has gained jobs.
That's not the only thing that's been going on, though. We all know that the U.S. economy has become increasingly services oriented. It also seems to be going increasingly virtual:

The tech industry in the U.S. is to a large extent no longer about tech products. It's about the software and systems that run on those products. Software publishing and Internet publishing and broadcasting and web search portals (that's an establishment category) show similar trajectories to computer-systems design, although they employ many fewer people.
Is this shift from tangible products to virtual ones a good thing or a bad thing? Average hourly pay is actually much higher in computer-systems design ($44.38) than in computer and electronics manufacturing ($34.22). And if software is eating the world, that seems like a good business to be moving more people into. But allowing computer and electronics manufacturing to move to other countries, mainly China, isn't risk-free. As Gary Pisano and Willy Shih put it in the Harvard Business Review back in 2009:
[T]he U.S. has lost or is in the process of losing the knowledge, skilled people, and supplier infrastructure needed to manufacture many of the cutting-edge products it invented.
We've got ever more management consultants, technical consultants and computer-systems designers, though. Let's hope they can see us through. 
There is data on occupations from other sources, but the monthly numbers don't get into nearly the detail that the establishment data do.
To contact the author of this story:
Justin Fox at justinfox@bloomberg.net
To contact the editor responsible for this story:
James Greiff at jgreiff@bloomberg.net
Before it's here, it's on the Bloomberg Terminal.
LEARN MORE