view
Next: a House Panel to Fight the Culture Wars
Republicans prepare to investigate Planned Parenthood. Democrats think it will backfire.
by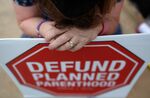 There they go again.
House Republicans have launched another select investigative committee, a sort-of Benghazi panel for the culture wars. This time the target is Planned Parenthood.
Democrats are loving it. They -- and more than a few Republicans, too -- think the special panel investigating Hillary Clinton and the 2012 Benghazi tragedy has backfired politically. They expect the Planned Parenthood probe to do the same.
"It will probably be as big a failure as the Benghazi committee," House Democratic leader Nancy Pelosi said this week.
The issue grew out of a highly edited video, secretly taped by an anti-abortion group, showing a Planned Parenthood official talking about the sale of fetal tissue for research. Former Speaker John Boehner appointed the special committee last month; the purpose was to head off conservative threats to shut down the government if federal funds for Planned Parenthood weren't eliminated.
The committee chair, Tennessee Republican Marsha Blackburn, an anti-abortion firebrand, has said the inquiry will be a serious effort to protect "the dignity of human life." Republicans are planning to show gruesome pictures of aborted fetuses and the like, and are betting that these will horrify even some Americans who view Planned Parenthood favorably.
Pelosi doesn't think it will work, for at least two persuasive reasons. One is solid public support for Planned Parenthood. A Gallup poll last month showed that 59 percent of the public had a favorable view of Planned Parenthood, as against 37 percent unfavorable. A Bloomberg Politics survey in September found that the public did not want to cut federal funding for Planned Parenthood, by an identical 59-to-37-percent margin.
The other is that partisan investigations on Capitol Hill rarely earn public legitimacy. And there's no pretense of bipartisanship to the Planned Parenthood inquiry.
This is crystallized by the composition of the committee. To prepare for the public relations battle, both parties stocked the committee with women. Though there are only 23 Republican women in the House, fewer than 10 percent of the party's caucus, half of the eight committee Republicans are women, all social conservatives.
Five of the six Democrats are women, all abortion-rights supporters. The ranking member is Jan Schakowsky of Illinois. The one male Democrat is Jerrold Nadler of New York, a senior member of the House Judiciary Committee.
About 12 percent of Planned Parenthood's services relate to abortions. Most of the group's budget goes to screening for breast cancer and sexually transmitted disease, and for prenatal care.
In the last fiscal year, Planned Parenthood affiliates received $528.4 million from federal, state and local governments. None of the federal funds can be used for abortion services. Another $305.3 million came from non-government sources.
Blackburn's office said no hearings are scheduled yet, with the committee now focused on hiring staff. House conservatives say they will force a vote on defunding Planned Parenthood in December as part of legislation to keep the government running. Their new speaker, Paul Ryan of Wisconsin, will probably let them vote, but there's no chance such a House measure could survive a Senate vote or a veto by President Obama.
To contact the author of this story:
Albert R. Hunt at ahunt1@bloomberg.net
To contact the editor responsible for this story:
Jonathan Landman at jlandman4@bloomberg.net
Before it's here, it's on the Bloomberg Terminal.
LEARN MORE