Editorial Board
China and Taiwan Need a Boring Summit
Maintaining the status quo would be best for both sides.
by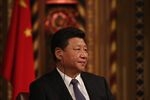 This Saturday's first-ever meeting between the leaders of China and Taiwan signals, on the face of it, a warming of relations. Unfortunately, it's a little more complicated than that. Both sides need to take care that their historic summit isn't too exciting, and doesn't set this delicate and potentially dangerous relationship back.
The complication is politics. Taiwanese elections are coming up in two months. Taiwan's President Ma Ying-jeou (who will leave office next year regardless) is thinking about his place in history. Chinese President Xi Jinping may be more interested in suggesting to the island's voters that the best way to keep improving ties with the mainland is to support Ma's Kuomintang Party (KMT), rather than the opposition Democratic Progressive Party, whose policy toward China is more cautious.
That's fine, so long as the status quo isn't unsettled. The best feasible way forward for China and Taiwan is more of the formula that's worked well for both: commerce plus ambiguity about the island's status. During and after the meeting, Beijing, the KMT and the DPP all should take care to maintain that balance.
With exports driving 70 percent of Taiwan's gross domestic product, increased trade has, until recently, sustained relatively healthy growth in Taiwan, and encouraged both countries to avoid conflict. The DPP, whose platform still includes a clause calling for Taiwanese independence, has moderated its stance. Its presidential candidate Tsai Ing-wen says she seeks to maintain the status quo.
Yet the election will take place against a background of discontent. Trade has not enriched all Taiwanese. There's a perception that the main beneficiaries have been the wealthy businessmen -- the "taishang" -- who live and work in China. For the average citizen, wages are stagnant. Graduates complain of a lack of good jobs, and high property prices have fueled resentment at rising inequality. Thanks in part to the recent slowdown in Chinese demand, the island's gross domestic product fell in the third quarter.
Fewer than 10 percent of Taiwanese favor reunification with China -- and many of these, only if the mainland first democratizes. Twice that number favor independence. But the great majority of citizens want to maintain the current ambiguity.
It's in China's and Taiwan's interests to let that majority have its way, regardless of the election results. It's also in their interests to avoid inflaming opinion, before and after the vote. Some fear that if Tsai wins the vote on Jan. 16, China may express its displeasure by throwing up new barriers to trade, or by redoubling its efforts to block Taiwan from joining regional free-trade agreements, including the Trans-Pacific Partnership. It would be smart for Xi to say that won't happen.
In the event Tsai wins, she and Xi should use the four months before her inauguration to deepen private channels of communication and quietly air their differences. And Xi should leave open the possibility of a formal meeting later as well: Open, consistent contact would give Tsai reason to stick to her moderate position and rein in the pro-independence firebrands in her party, continue a steady pace of economic liberalization, and allow cross-strait ties to strengthen.
It's an untidy and unsatisfying prospect -- but vastly better than the alternatives.
--Editors: Nisid Hajari, Mary Duenwald.
To contact the senior editor responsible for Bloomberg View's editorials: David Shipley at davidshipley@bloomberg.net .
Before it's here, it's on the Bloomberg Terminal.
LEARN MORE