Sports
A Free Market in Soccer Would Pay Women More
Economic explanations for the gap in sports payrolls don't add up.
by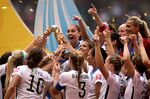 It's been four months since the U.S. team won the Women's World Cup, and as the joy of victory wanes, the grim realities of inequality in soccer linger. Last week, Senate Republicans blocked a resolution urging the sport's global body, FIFA, to pay men and women equally. Introduced by Senator Patrick Leahy of Vermont, it was just a symbolic measure, a message to global soccer's leadership that pay equity should be prioritized. But Senator Lamar Alexander of Tennessee's objection spoke volumes more.
"We have a budget to pass. We have a debt crisis to fix. We have an education system that needs reform," Alexander said. "That's what the United States Senate ought to be spending time on, rather than offering opinions and resolutions about a private international entity and how they should award prizes."
It's a strongly worded complaint from a man who, as pointed out by Huffington Post's Jennifer Bendery, found time to introduce such important resolutions as declaring June 20th "American Eagle Day."
Predictably, Alexander's defenders are making the same old arguments, based on a faulty understanding of how the free market works, or doesn't, in sports. Consider the Orlando Sentinel's David Whitley, who when not making "jokes" about liking women so long as they "dress real pretty and bring my coffee on demand," uses the vastly lower revenue of women's soccer to argue that lower pay isn't about discrimination, but capitalism.
Whitley concludes: "In the real world, the free market speaks. And when the question is why women soccer players don't make as much as men, the answer is sad but simple. They're not worth it."
The problem is that the free market isn't free of human behavior and gender assumptions. Decisions are made every day in leagues, media outlets and corner offices that reinforce women's soccer's second-class status and limit the sport's value. There is a strong case to be made that women players aren't worth less because the fans or market have decided as such, but because men like Whitley have.
Take sponsorship: The Women's World Cup generated just $17 million in sponsorship revenue for the U.S. broadcast on Fox. Compare that to last year's men's tournament, which brought in $529 million for ESPN. Now, you could take this as a sign that the women's game is inherently worth less than 1/30th of the men's. But what it really means is that executives, mostly men, from sponsors, broadcasters and FIFA simply think that to be the case, underestimating the potential demand for women's soccer. 
As Zach Zill put it in Jacobin:
The key thing to understand is that FIFA agrees on a price with the sponsors and TV broadcasters that's based on their (i.e. their mostly male top executives') perceptions of the value of the WWC. Those perceptions are tainted by sexist assumptions, primary among them being that 1) there is less of a market for women's soccer and 2) that the women's game is of a lower quality.

Therefore, all parties agree to prices for sponsorships and TV rights that are far below those for the men's tournament. The TV broadcasters then go on to sell ad spots for the games that again, are valued much less than the equivalent ad spots would be for a men's game.
More importantly, perhaps, the broadcasters don't shop it as aggressively to fans. Compare the media hype stateside surrounding the men's World Cup to that of the women's, and it's easy to see why the people in charge wouldn't expect the women to garner as much interest. As sports economist David Berri put it, "If the 'free market' is driving coverage, why doesn't the coverage match the interest?"
Many scoff at the notion that soccer executives would ever leave perfectly good money on the table. But that's exactly what happened: U.S. television ratings for the Women's World Cup final blew every other soccer match out of the water, including the 2014 men's final between Germany and Argentina. Sponsors should be kicking themselves for undervaluing the tournament and failing to capitalize on the exposure to the 24.5 million people who tuned into Fox to watch the U.S. defeat Japan. 
Berri noted an even more stark demonstration of this phenomenon: the difference in attitude regarding men's Major League Soccer and the Women's National Basketball Association. "The WNBA gets better TV ratings than the MLS," he wrote in an e-mail. "But the MLS is believed to be a league that is doing well. WNBA is thought to be struggling."
In 2013, the WNBA drew higher ratings than MLS, an average of 231,000 viewers compared to 220,000 on ESPN and ESPN2. The WNBA managed to bounce back from a record-low average of 180,000 viewers in 2012 -- thanks, in part, to ESPN's commitment to continue airing games. The WNBA is in the midst of a broadcast deal with the network worth $12 million a year until 2022. 
Compare that to the broadcast deal MLS secured in 2014: $75 million a year from ESPN and Fox and another $15 million from Univision, all through 2022. This season, the first year of that deal, MLS games averaged nearly 245,000 viewers on ESPN and more than 196,000 viewers on Fox, continuing steady gains from 2013. Isn't it amazing how a little good-faith investment and corporate support can actually help increase a sport's audience? Despite lower ratings, network executives have deemed MLS games more than five times more valuable than WNBA games, which in turn has led to more promotion and higher ratings.
"Perceptions of gender are driving the behavior of the participants in the market," Berri noted. "And that is influencing the results we see." So yes, women's soccer generates much less revenue than men's, but that's not a fact that disproves sexism in the pay gap. Quite the contrary.
To contact the author of this story:
Kavitha A. Davidson at kdavidson19@bloomberg.net
To contact the editor responsible for this story:
Tobin Harshaw at tharshaw@bloomberg.net
Before it's here, it's on the Bloomberg Terminal.
LEARN MORE