Middle East
Is the Metrojet Investigation Caught in a Shadow War?
Islamic State and the West are eager to call it a terror attack. Russia and Egypt are not.
by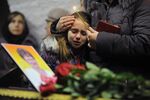 Whether or not terrorists brought down the Airbus that crashed in Egypt on Saturday, the U.K. is right to halt flights to Sharm el-Sheikh, the airport from which the plane took off, and the rest of the world should do the same.