Editorial Board
Britain and Egypt Need to Talk
It's a chance to push for economic changes and human rights reform.
by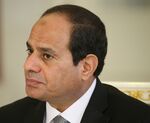 Britain's Prime Minister David Cameron is being pilloried by human rights activists for his decision to welcome Egyptian President Abdel-Fattah El-Sisi to London on Thursday. Their concern is understandable: The visit was announced just a day after confirmation of a death sentence for former President Mohamed Mursi, whom El-Sisi deposed in a coup.
But the meeting between the two leaders can be worth having -- so long as Cameron uses the opportunity to condemn the Egyptian regime's human rights abuses. The British prime minister can also work to persuade El-Sisi to undertake the economic reforms that are essential to improving the lives of all Egyptians -- and, yes, stimulate the investment that both leaders want. The U.K. accounted for almost half of all foreign investment in Egypt last year.
El-Sisi is facing dire economic problems, as support for his government falls on two fronts. Now that Mursi's Muslim Brotherhood is well out of power, Egyptians are no longer so desperate for military rule. And, with the fall in oil prices, the tens of billions of dollars in financial aid that Egypt has received from the Gulf states since the 2013 coup are drying up.
Grants from the Gulf states will be down this fiscal year to 2.2 billion Egyptian pounds ($280 million), from 25.7 billion pounds last year, according to Bloomberg Intelligence data. With such a void to fill, the government has been borrowing more in the markets at yields that Egypt's commercial banks have found too high to resist, crowding out credit to the private sector. The Egyptian pound has devalued, while exports and tourism remain weak, creating a shortage of foreign currency that has caused the government to miss payments to major investors -- including the U.K.'s British Gas and BP.
Until now, El-Sisi's government has boosted growth through mega-projects, such as a recently completed Suez Canal expansion and a planned administrative capital to be built outside Cairo. But infrastructure stimulus can help the economy only so much. Long-term, self-sustaining jobs are also needed. Yet Egypt remains an inhospitable place for smaller companies, ranking 131st in the World Bank's Doing Business survey. This is why youth unemployment and poverty, major drivers of the 2011 revolution that toppled former President Hosni Mubarak, remain high.
As a first step, Cameron should encourage Egypt to sign up for an economic reform program with the International Monetary Fund. The government has been debating whether to apply to the IMF, concerned that the deficit reduction involved would anger the population. But El-Sisi needs the stamp of approval he would get from the program to unlock financing and investment far beyond the $3 billion to $5 billion that the Fund itself would loan.
Curbing human rights abuses in Egypt would also help stabilize the country and the economy. El-Sisi's treatment of the Muslim Brotherhood as a terrorist organization has proved self-fulfilling, radicalizing parts of a movement that once had the support of roughly a quarter of Egypt's population. Tens of thousands of political prisoners have been jailed since the former army general came to power, including liberals who led the 2011 uprising against Mubarak. Popular enthusiasm for the regime has begun to fall accordingly. Turnout in a first round of parliamentary elections last month was only 22 percent.
To get the new sources of foreign investment Egypt needs, El-Sisi will need to both heal the rifts in Egyptian society and build an economy that creates lasting jobs and growth. Cameron will have plenty to talk to him about.
(Corrects reference to bond yields in fourth paragraph.)
--Editors: Marc Champion, Mary Duenwald.
To contact the senior editor responsible for Bloomberg View's editorials: David Shipley at davidshipley@bloomberg.net .
Before it's here, it's on the Bloomberg Terminal.
LEARN MORE