2016 Elections
OK, Candidates. Ask the Questions Yourselves.
Republicans say debate moderators do a lousy job. There's another way.
by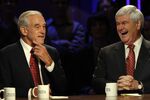 It seems that some Republican presidential candidates don't think much of the people who've moderated their debates. OK then, here's a solution: let the candidates question each other.
Both the answers -- and the questions -- might be revealing. There couldn't be allegations of liberal bias. It would be fair to everyone.
Last week's CNBC debate was flawed by moderators who were careless and at times snide. (Ignore Republican charges of ideological bias and the assertion that the single Democratic debate was a "softball" session. That's standard-issue media-bashing that's become a favorite talking point and fund-raising vehicle.)
Still, there's precedent for a moderator-free event. Candidates questioned one another at a Bloomberg/Washington Post Republican presidential debate at Dartmouth College four years ago. It worked out pretty well.
The front-runner didn't like the idea beforehand. Informed of the plan before the debate, Mitt Romney's lawyer, Ben Ginsberg, exploded. It would turn into a carnival and a get-Mitt show, he charged.
But the other candidates agreed to participate, so Romney had to go along. Half the questions were indeed directed at him. He seemed better prepared than some of his questioners and did well.
Afterward, Ginsberg acknowledged that the segment worked.
His conversion was apparently short-lived. A memo drafted by Ginsberg last weekend to shape future debates asks networks to rule out candidate-to-candidate questions this time around.
It wouldn't be too surprising, though, if some of the candidates see things differently. Ginsberg, the Republicans' most able campaign lawyer, is part of the party establishment, which fears such a debate could get out of hand and be dominated by Donald Trump. (The advantage could just as easily go to Ted Cruz, a college debate champ.)
A candidates-only debate should take place shortly after the turn of the year, about four weeks before the voting starts with Iowa caucuses on Feb. 1. By then, the field is likely to be winnowed down to eight or fewer real contenders. Each would get 30 seconds to ask a question of the others, with 60-second answers and then a 30-second response from the questioner. Each candidate would get a chance to pose a question to each competitor. There could be a closing segment for clarifications and corrections.
So far, the debates have actually been pretty good. Fox News's Megyn Kelly's questions at the first Republican contest on Aug. 6 drew Trump's ire but were perfectly fair. Jake Tapper took control of a CNN debate on Sept. 16. Conventional wisdom notwithstanding, the substance of most of the CNBC inquiries was legitimate.
Democrats absorbed hard punches at their debate on Oct. 13. The first question to Hillary Clinton was, "Will you say anything to get elected?" Bernie Sanders was reminded that he "honeymooned" in the Soviet Union more than 25 years ago, and Martin O'Malley, who was mayor of Baltimore over eight years earlier was asked about his responsibility for riots that took place there this year.
Politicians get plenty of chances promote their messages. They use speeches, Q&A's with supporters, commercials and policy papers to present their ideas and differentiate themselves from their opponents.
They don't as often have to respond to informed challenges to their practiced presentations. So if they don't like the way journalists are challenging them, let them challenge each other.
To contact the author of this story:
Albert R. Hunt at ahunt1@bloomberg.net
To contact the editor responsible for this story:
Jonathan Landman at jlandman4@bloomberg.net
Before it's here, it's on the Bloomberg Terminal.
LEARN MORE