Turkey's Mandate Isn't Erdogan's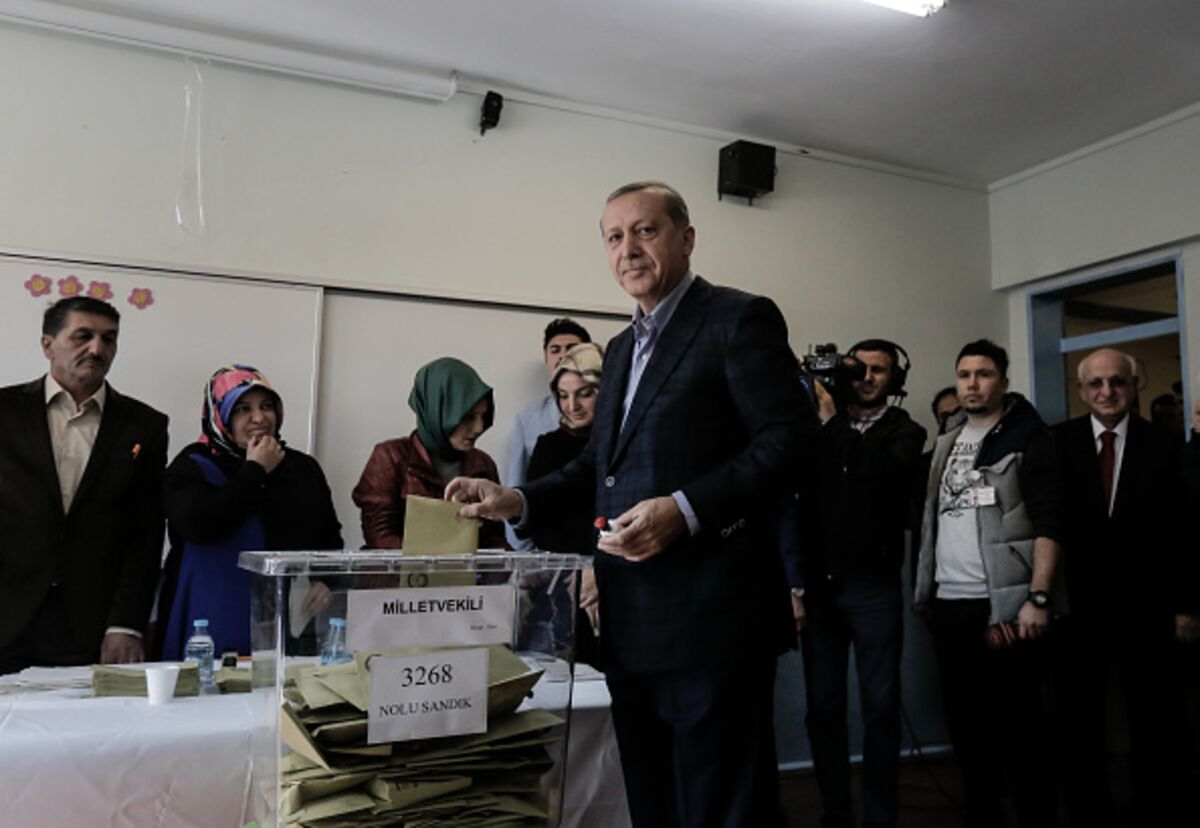 Photographer: Gokhan Tan/Getty Images
Turkish President Recep Tayyip Erdogan's party won an astonishing victory on Sunday. But his party's triumph is no mandate for one-man rule.
Erdogan's political genius was to minimize concerns about Turkey's languishing economy and make security the main focus of the election, in which the ruling Justice and Development Party regained the parliamentary majority. Erdogan restarted a war with Kurdish guerrillas that Turks recall with horror. At the same time, Syria's messy civil conflict spilled across Turkey's borders, as Islamic State adherents carried out a series of terrorist attacks. Erdogan turned this violence to his advantage as he sought to persuade voters that their choice was between a strong government and chaos.
QuickTake Turkey's Continental Divide
The result: Erdogan's AKP drew more than 4 million more votes than in June's elections, most from Turkish nationalists and the Kurdish People's Democratic Party, or HDP. The nation's financial markets surged at the prospect.
Those hopes will prove empty, however, if Erdogan uses this victory merely to concentrate his power. The AKP's mandate is for stable government and an end to the war in the east -- not autocracy. And the best way the AKP can deliver on its mandate is to restart the Kurdish peace process and rebuild confidence in its management of the economy.
That confidence has been badly damaged by Erdogan's interventions over the last two years and will deteriorate again if he treats this victory as permission to further persecute businesses he considers politically hostile. And Erdogan continues to have flirtations with eccentric economic thinking: There have been signs, for example, that he would like to replace Turkey's widely respected economic team with one more open to pet ideas such as the notion that raising interest rates causes inflation.
There were some bright spots in Sunday's result. Most important is that the Kurdish People's Democratic Party made it back into parliament. That could make it easier to heal the bruises inflicted by the campaign. The election also underscores that, unlike Russia, Turkey still has a meaningful democracy. Erdogan was unable to secure the supermajority necessary to rewrite the constitution and create a presidential republic.
Erdogan may still try to change the constitution, or just to say it allows him to run the country from his new presidential palace. Yet he must also be politically astute enough to realize that while polarization may help win elections, it does not make it any easier to govern. It wasn't so long ago that Erdogan was negotiating with the Kurds and instituting market-based economic reforms. Turkey's success, no less than Erdogan's, depends on his return to that kind of leadership.
To contact the senior editor responsible for Bloomberg View's editorials: David Shipley at davidshipley@bloomberg.net.