Watch Indian Tractor Sales to See Where Gold Is Headed
Weak monsoon rains won't provide any comfort to bullish investors.
By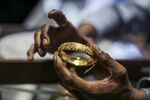 Equity investors have long relied on ``sell in May and go away'' as an inexplicably effective way of timing the market. Here's another: Don't buy gold outside of India's wedding season.

Six of the 10 worst-performing months for spot gold over the past decade have occurred in periods with no auspicious dates for Hindu marriages, according to data compiled by Bloomberg. Buying the precious metal at the end of October and selling at the end of April as the approaching monsoon puts a dampener on wedding plans would have resulted in average gains of 6 percent in the past 10 years. Following the reverse strategy and holding through the wet season would have yielded just 2.5 percent:





Rather than parsing the words of U.S. Federal Reserve statements and the color of Janet Yellen's jackets, gold investors would do well to take a look at the state of the Indian economy as it heads into its peak gold-buying period this month with Diwali, the biggest of all Hindu festivals, and the start of the wedding season.
Those counting on a recovery in gold prices have been building their hopes on progressively weaker foundations. The market is heading toward its third consecutive year of declines. Negative interest rates in the euro region and the repeated postponement of higher borrowing costs from the Fed have failed to spark a rally. The U.S. and U.K. have been flirting with deflation with little perceptible effect on the yellow metal. With hedge funds cutting bullish bets and spot prices dropping to their lowest levels since Oct. 5 on Monday, gold bulls could do with a bailout from Indian consumers.

In theory, Indian jewelry provides the global gold market with a degree of stability. The world's central banks bought 591 metric tons of gold last year and private coin and bullion investors purchased another 820 tons, according to the World Gold Council. In India, jewelry demand alone amounted to 604 tons. Investors can easily trim net long positions in gold if they think prices are heading lower. If you're the parent of a daughter eyeing a 22-carat necklace for her wedding next month -- well, that's trickier. 

Still, it would be foolish to take such purchases as a given. Jewelry demand in Asia's third-biggest economy fell 23 percent from a year earlier in the June quarter, World Gold Council figures show, and purchases of coins and bullion slumped 30 percent. In the western state of Gujarat, gold imports tumbled 87 percent last month from a year earlier, the Times of India reported. 

Getting the country to buy less gold has even reached the level of government policy, with Prime Minister Narendra Modi encouraging families and temples to deposit their holdings with banks and start earning interest as a way of reducing imports that have blown out the country's current account deficit.

On top of that, a less than optimal monsoon season has left rainfall running at about half of usual levels and may subtract as much as 0.3 percentage points from economic growth for the financial year ending March 2016, according to Bloomberg Intelligence. Wage rises in rural areas -- where gold ownership is particularly attractive to people without access to bank accounts -- are subdued and tractor and motorbike sales are falling, Reserve Bank of India governor Raghuram Rajan said in last month's monetary policy statement. Wedding traditions count for a lot in India, but you still need an income to buy gold.
To contact the author of this story:
David Fickling in Sydney at dfickling@bloomberg.net
To contact the editor responsible for this story:
Katrina Nicholas at knicholas2@bloomberg.net
Before it's here, it's on the Bloomberg Terminal.
LEARN MORE