Europe
Britain Woos Germany
The U.K. finance minister explains what his country needs to stay in the European Union.
by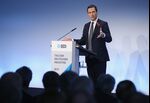 George Osborne, the British finance minister, made a good speech in Berlin on Tuesday, coming closer than the U.K. has so far to spelling out what reforms of the European Union it needs to stay in the bloc.
It was a good speech because it was well directed and well couched. First, Osborne picked Germany to lay out his wares -- the country that matters most in European decisions. It's also the country with most at risk should the U.K. leave the EU after a referendum that must be held by the end of 2017. To succeed, the U.K. has to make common cause with Chancellor Angela Merkel.
As Osborne pointed out in his speech, the U.K. and Germany are each other's biggest trade partners within the bloc. What he didn't say is that this trade overwhelmingly favors Germany. In August, for example, Germany exported 4.5 billion pounds worth of goods to the U.K., and imported just 2.2 billion from it. No one believes this trade would stop if Britain exited the EU, but there are risks for trade and investment if it happens.
Osborne also pointed out that since the financial crisis, the U.K. has been growing and creating jobs a lot faster than Germany's other EU trading partners, in part because both have done more to free up their labor markets.
Britain and Germany agree on a lot of things within Europe: that the bloc's economies need to become more competitive, that there should be a single market in services as well as goods, that investing close to 40 percent of the EU budget in agriculture is dumb. Merkel acknowledged as much to the same audience of German business people on Tuesday.
Even more than this, though, no one is better aware than Germans of the dangers a so-called Brexit would pose to the political fabric of the EU, leaving an already dominant Germany simply overbearing.
Osborne's speech was good, too, because he went out of his way to demonstrate that he -- and by extension the U.K. -- identify with Europe. He talked, for example, about how "my continent" had been divided by the Berlin wall, and about his own Hungarian ancestry. This mood-language is important. There is a deep suspicion among Germans (and others) that U.K. is simply hostile to Europe -- and part of it is.
The thing Britain objects to, Osborne said, is that it no longer wants to remain part of the "ever closer union" project that's enshrined in EU treaties.
Ultimately, though, it was a good speech because the core of what Osborne proposed is so obviously correct: namely, that the legal framework of the EU needs to be changed to recognize that a two-speed Europe already exists. The fast part includes the 19 members of the euro zone, which need more integration. The slow one includes the other nine EU members, which don't. Currently, EU law says that the euro is the currency of the EU, which is neither true nor desirable.
The deal Osborne proposed is that Germany and the other euro zone members get a better legal environment, free of interference from the likes of the U.K., to integrate whatever it takes to create a sound common currency. The U.K. and other non-euro economies would in exchange get treaty-based guarantees that their marginalized status won't lead to discrimination.
This is no straw man -- an accusation levelled by the opposition Labour party, which described Osborne's visit to Berlin as a publicity stunt. The U.K spent four years suing the European Central Bank after it introduced a directive requiring clearing banks for the euro currency to be located within the euro zone, a clear attack on London's status as the EU's main financial center.
There is no doubt that the U.K. has often been awkward and obstructive to countries that believe heart-and-soul in the EU project, including Germany. Yet that was in a different time. It requires myopia to believe the EU can today go on with "ever closer union" as it has. Indeed, a two-speed Europe is something the euro area should be pushing on the U.K.
Osborne's speech was still too vague to negotiate, a frustration for Britain's partners. Prime Minister David Cameron is due to send a letter outlining the U.K. demands to European Council President Donald Tusk this month. Britain's leaders have been understandably afraid to show their hands early, but now they've done what they can to get Germany on their side. The sooner they provide enough detail to start negotiation, the better. 
To contact the author of this story:
Marc Champion at mchampion7@bloomberg.net
To contact the editor responsible for this story:
Jonathan Landman at jlandman4@bloomberg.net
Before it's here, it's on the Bloomberg Terminal.
LEARN MORE