Congress
How Ryan Can Avoid Gingrich's Mistakes
Give others credit and let House committees do their work.
by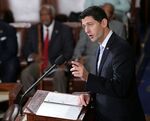 Paul Ryan is off to a good start as speaker of the House. Maybe it's because he insisted on it as a condition before taking the job, but the fight about raising the debt limit is finished for the rest of this Congress. And the threat of more showdowns over shutting down the government, while not gone, is at least somewhat diminished.
Now we'll see what lessons he has learned from his predecessors.
Ryan is the eighth modern speaker. The office was transformed by a series of changes from 1959 through 1974 that transformed a chamber organized primarily by committees into one organized primarily by party. The speakership -- held by the leader of the party that controlled the House -- became a far more powerful office than it had been before. 
QuickTake Speaker of the House
Only three of Ryan's seven predecessors were good at the job: Tip O'Neill, Nancy Pelosi and John Boehner. Speakers Jim Wright and Newt Gingrich lost the confidence of their parties relatively quickly and were dumped. 1 Speakers Tom Foley and Dennis Hastert did not spark internal revolts, 2 but they were seen as ineffective.
Ryan seems to be respected by Hill colleagues, which is good. He showed deal-making abilities when he worked out a budget agreement with Senate Democrat Patty Murray. His biggest strengths as a politician up to this point, however, appear to be that he's good with the media and that he's good at big-picture goals on policy. Unfortunately, those aren't especially useful skills for a speaker. 
Gingrich was the only modern speaker who was good on television, but it didn't do him any good in the end. No speaker is going to be more popular than the president. Why is that? Everyone hates Congress, and modern speakers are inherently partisan figures, while presidents, as heads of state, represent the entire nation in some ways. And the speaker's job is primarily internal, so it isn't clear if winning over the press helps at all.
O'Neill, Pelosi and Boehner were all unpopular, at least at some point in their tenure. This isn't a coincidence. One particularly valuable skill for modern speakers is accepting blame that would otherwise go to others in the party while sharing credit widely when things go well. Boehner in particular specialized at doing this, getting must-pass bills through the House that his party wanted passed even if its members refused to vote for them.
As far as policy is concerned, the two innovators were Gingrich and Wright. The problem for them is that they substituted their own judgment and preferences for those of their parties. The lesson here is that Ryan should leave budget matters to the Budget Committee, and tax and entitlement initiatives to Ways and Means. 3
O'Neill, Pelosi and Boehner were all good at pushing policy in the general direction they wanted (liberal for the Democrats, conservative for Republicans), but they also accepted the political context they operated in. The political circumstances were different for all of them. In her final two years as speaker, Pelosi benefited from unified Democratic dominance of Congress and the White House. Her House was able to do far more than Boehner's House could ever do, since Republicans were faced with divided government.
The challenge for Ryan is to recognize the limits he has to live with, yet capitalize on the opportunities still open for him. And, like Boehner, he has to do that at a time when a large faction of his own party considers it practically treasonous to acknowledge those realities. 
Weak ethics cases were filed against both Wright and Gingrich. Gingrich also suffered an electoral setback.  

Foley's tenure ended when he lost re-election to the House, and Hastert retired after Republicans lost their majority in the 2006 elections.
To contact the author of this story:
Jonathan Bernstein at jbernstein62@bloomberg.net
To contact the editor responsible for this story:
Katy Roberts at kroberts29@bloomberg.net
Before it's here, it's on the Bloomberg Terminal.
LEARN MORE