Tech
Gravity-Defying Chip Bids Evoke a Bubble
A bidding war among semiconductor makers is the latest sign of froth in the M&A market.
by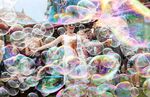 Another day, another eye-popper in the 2015 M&A market.
On Friday, a bidding war between chipmakers Skyworks Solutions and Microsemi entered gravity-defying territory when they fired off a new round of competing offers in their contest over smaller rival PMC-Sierra. The latest -- an $11.88 a share cash-and-stock bid from Microsemi -- represents an 88 percent boost from where PMC-Sierra's stock traded in the days before Bloomberg News reported it was exploring a sale.
The last time a buyer offered a premium that rich for a big semiconductor maker was in 2000, right around the time the dot-com bubble was starting to burst. Microsemi's $2.3 billion bid for PMC-Sierra values the chipmaker at more than 30 times Ebitda -- not the industry's priciest deal, but more expensive than most. 
And there's more: Investors are now betting the bidding war may escalate. Shares of PMC-Sierra were trading at $11.92 as of Friday afternoon in New York, signaling some traders expect Skyworks to re-enter the fray with a higher offer.
So it goes in the frothy merger market. Takeover volume for the year is on track for a record with $3 trillion in global acquisitions announced so far. In the semiconductor industry alone, the deal frenzy has reached almost $90 billion this year, an all-time high.

With revenue growth hard to come by in this economy, companies are increasingly relying on acquisitions -- and the ready supply of cheap debt -- to get it. They're willing to pay up, too. So far this year, global acquirers across all industries have paid a median multiple of 14.4 times Ebitda for targets of more than $1 billion. That's pricier than even the M&A boom years of 2006-2007.

And the year isn't over yet.
Pfizer is in talks to buy Allergan in a deal that would be the biggest -- and one of the priciest -- for the pharmaceutical industry. The proposed takeover (likely valued at more than $150 billion) is so big that UBS U.S. equity strategist Julian Emanuel called it "reminiscent" of AOL's purchase of Time Warner in 2001. That deal, another relic of the dot-com bubble, is still the largest completed merger of all time.
Emanuel questioned whether the blockbuster Pfizer-Allergan combination was a sign of an approaching top in equities because big deals have been one of the hallmarks of a peak in the past.
PMC-Sierra, for one, is being valued by its suitors at prices it hasn't seen since 2006. Back then, its revenue was growing a lot faster than it is now. (Analysts are projecting sales this year will essentially be flat.) Yet, Microsemi is willing to pay more than 4 times PMC-Sierra's revenue in the last 12 months, compared with a median of 2.8 times for big chipmaker deals in the last five years.

One big appeal for PMC-Sierra's bidders is the prospect of cost cuts at a time when semiconductor companies' expenses are soaring because of the increasingly complex nature of the chips they develop. The savings projected by both Microsemi and Skyworks means that even with their increased bids, a purchase will still add to earnings for both chipmakers, according to data compiled by Bloomberg.

But are those hypothetical savings worth the price, and what if they don't all come through as promised? If the M&A market isn't nearing a top, it's a little scary to think about how much further it can go. And not in a fun Halloween-type way.
To contact the author of this story:
Brooke Sutherland at bsutherland7@bloomberg.net
To contact the editor responsible for this story:
Beth Williams at bewilliams@bloomberg.net
Before it's here, it's on the Bloomberg Terminal.
LEARN MORE